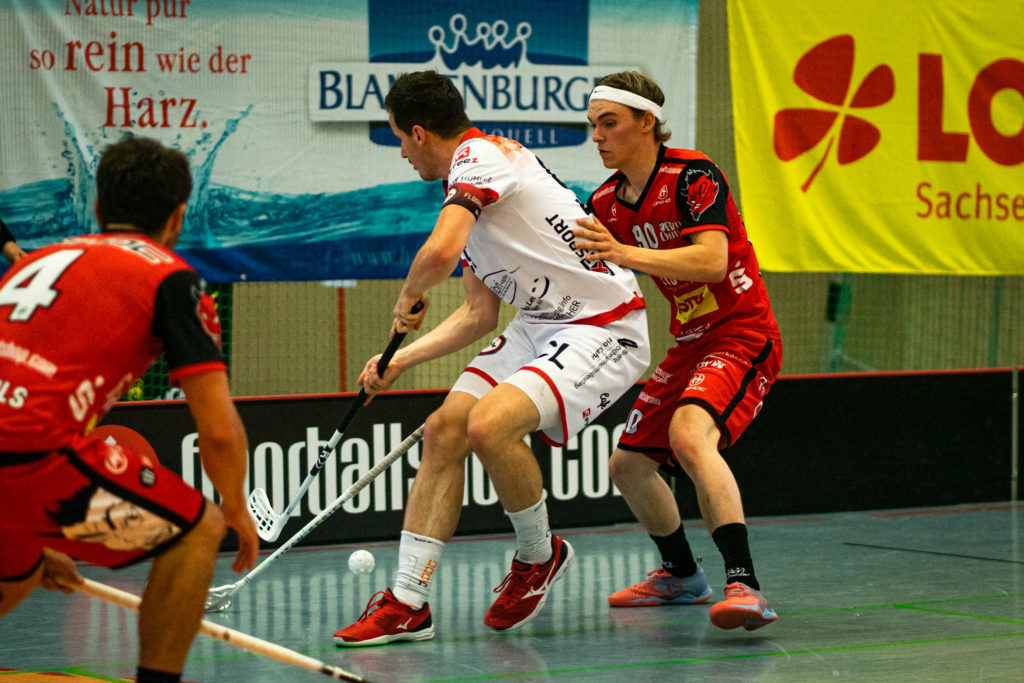 Technically the chase for the coveted place in the Final4 and subsequently the Cup-Title (Pokal Meisterschaft) already started a couple of weeks ago. However this last weekend it was time for the Bundesliga-teams to join in in the fun, much to the dismay of of some lower-league teams.
As I have covered in my previous articles, last year if I remember correctly, the cup-structure is a little bit "special". The top leagues get a bye to the second round, but will have to play all of their games "away" unless they get drawn with a same-league team…in which case, the team drawn first will get home-advantage.
Cup for the Bundesliga-teams
This naturally leads to some odd pairings and grey hairs in the budgeting-departments of the Bundesliga-teams. The Bundesliga-teams are required to participate in the cup, which I believe is the right thing by the way, but they will most likely play all of their games until QF away….leading to situation where there will be 3-4 rounds of sitting in a bus for hours on end to play a game which in worst case can end up around 50-0 or so…
So while I agree with the chance for lower-league teams to get a crack at the Bundesliga-teams, one must wonder at times how much is in it from sporting-perspective. I do understand that these matchups where the local team from the lowest leagues gets to play the German Champions or like, it is a huge thing for the home-team. Not only do they get to measure against the best, it is a potentially a life-changing event for the aspiring young-talents in the small team. Add to that the potential of added revenue as everyone wants to see their "kids" playing against the "pros"…. Too bad the Corona has pretty much ruined the last part for all.
So I do not really have any answers, just wondering aloud…perhaps it would be better that the 1-2 Bundesliga teams only join in on the third round to avoid completely lopsided results…then again when do the really small teams (or Mannschaftgenossenschaft….where more than one small club put up one team together as both would be too small to do it alone) get a chance to measure up against the best.
RESULTS
So get on with the results already……did some lower-league team cause a major upset? Who upset whom? Well….sadly nobody…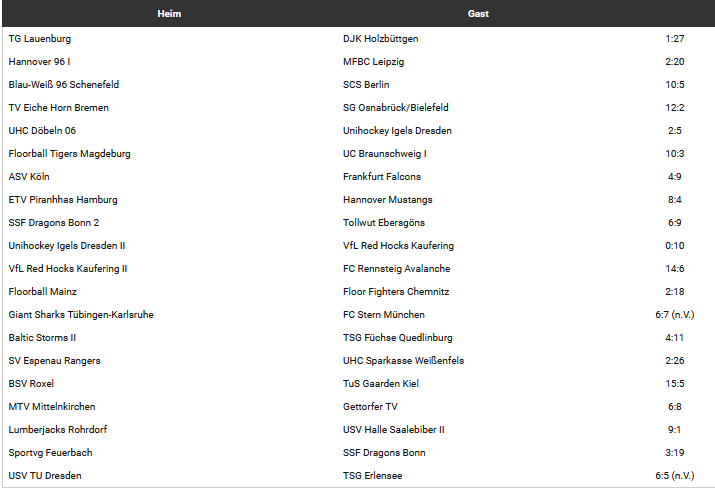 As you can see, at least from Bundesliga-perspective, no upsets really.
DJK Holzbüttgen – TG Lauenburg
Personally I got a chance to travel with our team from Kaarst to Lauenburg, not too far away from Hamburg. So about 5h travel one way was ahead of us.
TG Lauenburg is actually a team that is essentially a school-team. Nearly all of the players are from the local school and normally play only KF (small field, 3v3 with goalies) so a step to the bigger arena with 5v5 is something most of these players had never done. Having had a "bye" in the first round and then draw one of the 3 teams currently without points-losses in this years competition, is tough.
Taking nothing away from the hosts Lauenburg, this was not an "easy" matchup for DJK either. It is not always easy to motivate the team to a match that you are likely to win in any case. So extra emphasis was put in preparation to ensure the team was ready.
Matchreport
The match itself progressed pretty much as expected with DJK tallying up goals at a steady pace whilst Lauenburg was being forced to defend their goal minute after minute with occasional break-away or half-chance. With periods ending 0-6, 0-13 and 1-8, it was never in doubt who would be victorious on this day. However, what impressed me, was the attitude of the Lauenburg. Even if the score was rather decisive, ugly some might say, they never let their head hung down and were rather encouraging each other through the match.
In the end their perseverance was also rewarded as DJK mishandled the ball in the middle allowing a break-away for Lauenburg. In the end it was Julius Wincenciusz that delivered the ball in the net from a pass from the captain Moritz Wille, much to the delight of the 40 or so spectators allowed in the hall. Well executed and fully deserved goal!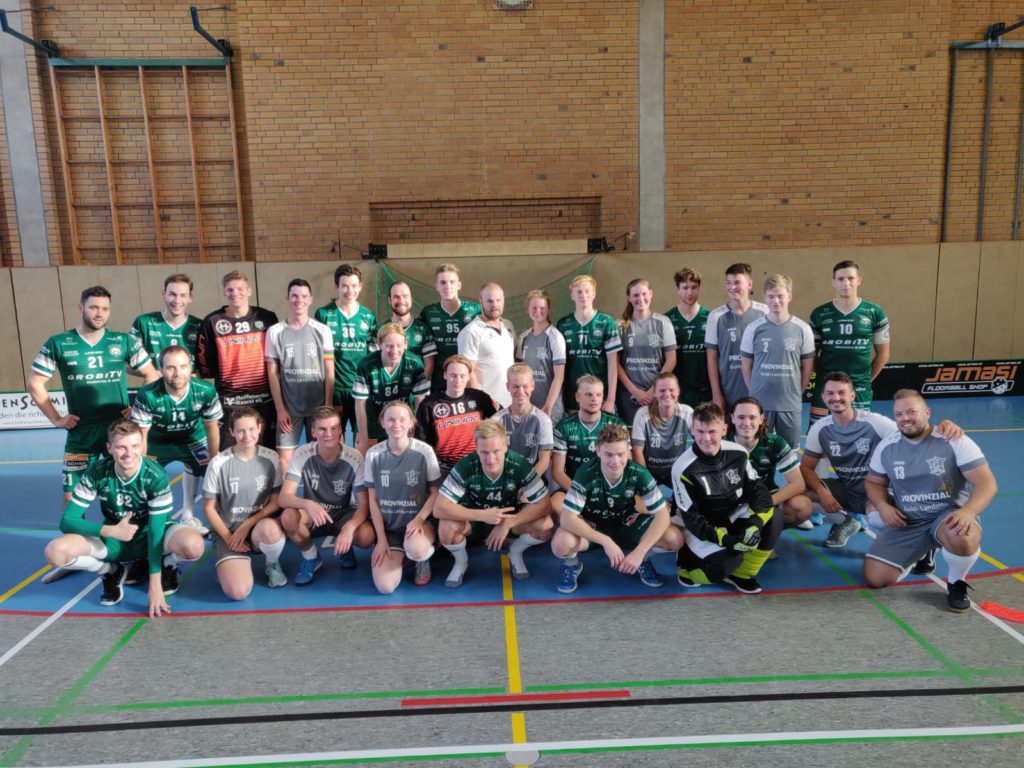 Unfortunately the Corona-virus dampened the all so positive atmosphere at the match as the hosts certainly deserved more. Having chatted with the players of the opponents after the game, they normally do have a full house of supporters that were unable to now see their team matching up against the "big ones".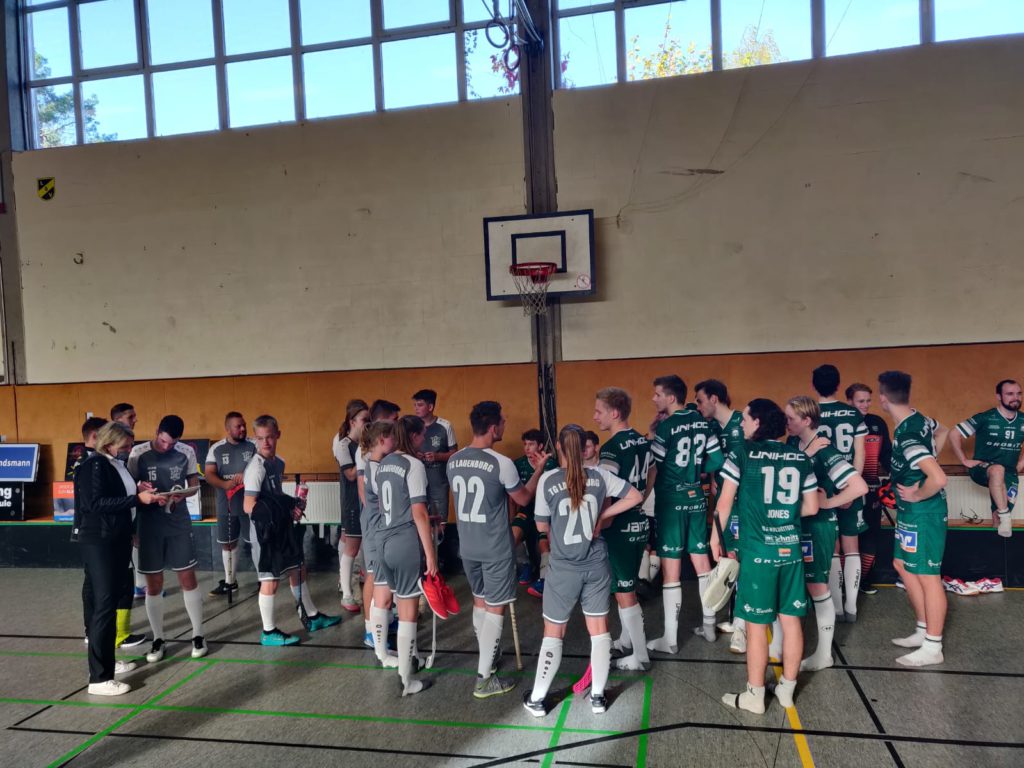 What was also nice to see after the game the two teams coming together for a quick chat and managing a quick photo together (very quick in order to comply with the Corona-regulations). I can only applaud the attitude of Lauenburg and their supportive environment they've managed to create. This is what floorball is really about!
I hope we will be hearing more from the TG Lauenburg in the future and all the best in their league going forward.
WHAT NEXT?
So now that the round #2 is done and dusted, what happens next? Well…the third round of the cup naturally. The draw actually took place already last Sunday so here are the next matchups:
| | |
| --- | --- |
| BSV Roxel | TSG Füchse Quedlinburg |
| Gettorf Seahawks | TV Eiche Horn Bremen |
| Winner from ETV Piranhhas II/III vs. Berlin Laikas | Winner from SG West-Berlin vs. Red Devils Wernigerode |
| Floorball Tigers Magdeburg | MFBC Leipzig |
| Winner from TV Eiche Horn Bremen II vs. USV Halle Saalebiber | DJK Holzbüttgen |
| ETV Piranhhas Hamburg | Blau-Weiß 96 Schenefeld |
| | |
| --- | --- |
| SSF Dragons Bonn | USV TU Dresden |
| Red Hocks Kaufering II | UHC Sparkasse Weißenfels |
| FC Stern München | Red Hocks Kaufering |
| Frankfurt Falcons | Winner from SC DHfK Leipzig vs. TV Schriesheim |
| Lumberjacks Rohrdorf | Floor Fighters Chemnitz |
| Unihockey Igels Dresden | Tollwut Ebersgöns |
As there were a couple of matches postponed due to Corona, they will be played on the weekend of 7-8. November…which is incidentally the weekend planned for the 3rd round. So it will be interesting to see what Floorball Deutschland decides as there are now multiple teams that would have to play two games in the same weekend. Whether this is possible even from hall-reservation -perspective but also putting one team in a place where they have to play 2 tough games (possible even 2 tough away-games) in one weekend, must be a concern.
So stay tuned for updates from FD (Floorball Deutschland).
AND BUNDESLIGA?
As for the Bundesliga, this will be coming first as the next rounds in the league have been scheduled for the 24-25. of October. Here are the matchups for that weekend.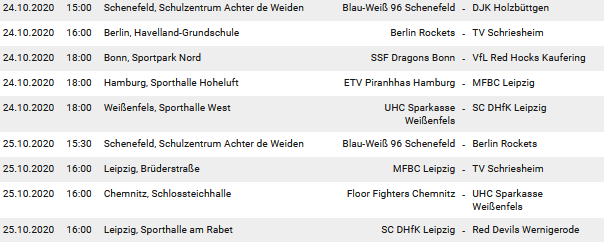 So another double-header for many teams with many interesting matchups.
So that is it from me for now…. We have managed to get some photos from the teams so I can try to start adding more of them in my articles. A big thank you to all those that have sent them in and keep them coming.
Cheers,
Kimmo