German League going Karneval
Little did the spectators know as they were heading for the halls on the Carneval Weekend, what they were about to witness. It is as if the league had suddenly turned upside down and results were out of some other league.
Sign up for our Monthly Newsletter! Once a month we keep you updated about the latest articles we write about. Our newsletter subscribers receive one patron-only article FREE of charge. Don't miss it!

See the carneval in Germany, at least the western part where I reside, is rather a big thing. Officially starts already in November but it all culminates on this weekend from Thursday pretty much until Tuesday the following week. People dressing up in costumes, drinking vast amounts and generally celebrating outside regardless of the whether. This goes with massive parades through the cities where organisations, clubs etc. have floats there they keep on drinking and dancing whilst throwing candy to the kids in enormous amounts.
So back to floorball….judging by the results of the last weekend, there was some strange carneval-type goings on in the league as well. So let us get to it then…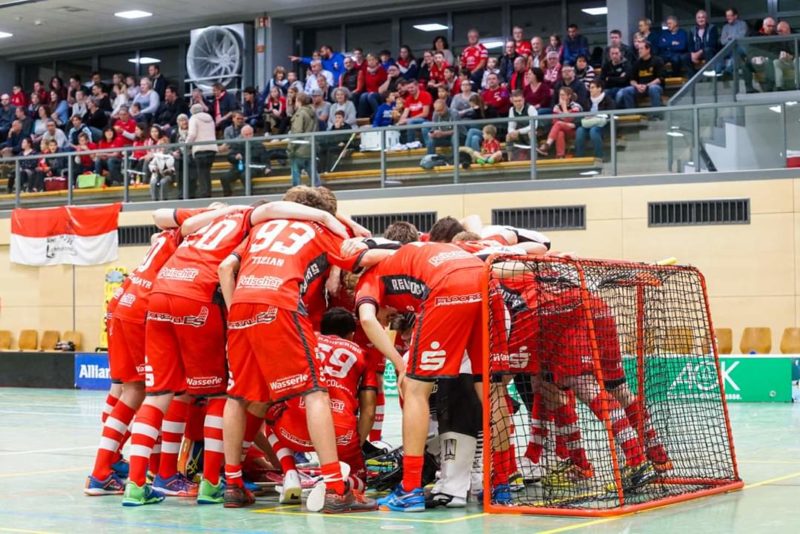 ETV Piranhhas Hamburg – Floor Flighters Chemnitz 7:5
Up until now, Chemnitz has had a strong season so travelling to Hamburg was expected to be ending in their favor considering the recent form of the Piranhhas. Little did they know that this time nobody had fed the Piranhhas with points for a while and they were out for blood. It took Chemnitz 30min just to get on the board with one goal…by which time Hamburg had already scored 5.  Despite a furious chase, they were never able to really catch up and more than 200 spectators in got what they wanted as the home team secured those desperately needed 3 points.
MFBC Leipzig – DJK Holzbüttgen 13:4
This was supposed to be the top-matchup in the league for the weekend, unfortunately only one team showed up. For two period DJK was able to hang on to the game but as the third period came, there was only one team managing anything. With some 6 goals in the last period alone, there was no doubt on which team today deserved the points more. With a losing streak of now 4 games, some soul-searching is required as the possibility of ending up in the play-downs is still a possibility despite having one less game played than most of the opposition.
SSF Dragons Bonn – Red Devils Wernigerode 6:7
Two teams desperate to avoid the playdowns is always a recipe for an exciting game. The two exchanged goals throughout the match and left the 240+ audience biting their nails until the end. With only 1.5minutes left to play, it was Philip Andersson for the guests that broke the tie and shoved Bonn deeper in the playdown-zone while bringing the Red Devils within 4 points of the last play-off position.
VfL Red Hocks Kaufering – UHC Weißenfels 8:5
Well here it is. The first team to deny Weißenfels all the points. How fitting it is that the team with the worst first half of season would be the one to take down the team with the best first half. A deserved win at that as well as it was Kaufering that dominated the scoring in the last period. UHC was still able to draw level at 5-5 at half-way mark of the last period, but were unable to respond to the 3 Kaufering in just over 3minutes.
With just three games to play it is now Kaufering level with Wernigerode both 4p away from the last position in playoffs. Could they even catch struggling DJK a mere 6 points away??
Berlin Rockets – TV Schriesheim 6:7(ot)
When it rains, it pours! Or that is what Berlin must be thinking now. There seems to be no end to their misery as they have now slipped to the last place in the league. So close but so far. It looked still ok at the beginning of the third period as they managed to open a 2 goal gap, only to see it closed by Adrian Braune with a double….his second goal of the period with only 45 seconds to spare.
He was not done yet however, after Schriesheim survived a 2min penalty at the beginning of the overtime, it was Braune again. At 7.41 mark of the overtime, completed his hattrick with third consequtive goal of the night. With the 2 points secured TV managed to open a small gap to the 5th place DJK (still a game at hand)…but a lot will be decided on their last game of the season against DJK in Holzbüttgen.
Now what?
So three more rounds to go (4 for Bonn and DJK) and competition just seems to be getting more interesting. As a member of DJK Training-staff, a little to interesting to my taste! 🙂 Here is an overview on what is to come in just a few days again.



Even if the Weißenfels / Leipzig -game stands out as THE game to see, I bet there will be a few more interested glances thrown in the direction of Wernigerode / Kaufering -game. Since both teams are still in a fight for playoff-position, excpect a highly charged game. Same could be said about the Bonn / Hamburg game as the hopes of Bonn might be slowly slipping away, Hamburg is by no means safe yet.
So let us see who recovers from the Carneval best…until then….seeya!