Welcome back to our Forward Bootcamp! In part 1, I explained to you what to do when you or your team has the ball (chapter 1) and what to do when the opponent has the ball (chapter 2).
In part 2, I'll explain what to do in the 'in-between moments': the moment your team wins the ball (3.1) or loses it (3.2). Furthermore, I spoke with three of the best forwards in the world – Jan Zaugg, Joonas Pylsy, and Albin Sjögren – and asked them about scoring goals.
Did you miss part 1? Find it here!
Chapter 3: In between ball possession and ball loss, or vice versa.
What are the standard patterns you can follow during ball loss, or when your team captures the ball?
3.1 You or your team captures the ball
In Chapter 2, I explained what to do when the opponent has the ball. If you succeed to capture the ball, a new phase starts. Your opponent probably is still in the 'offensive' mode, but needs to change rapidly to 'defensive'. Here's what to do in this short period – around 5 seconds – after you've captured the ball.
In a game, a counter-attack often is one of the best moments to achieve a great scoring chance, but you have to be able to estimate this moment well.
When to start a counter?
Suppose you can intercept a pass between the two defenders as a forward, then you can of course go straight to the goal and (try to) score. But what if you face four men on your own? Then – of course – you have to go back! Unfortunately, it's sometimes difficult to judge whether you should choose to start a counter, or play the ball back (in order to achieve a quiet, well-constructed attack with your team).
The most important thing to remember is that you know how many opponents there are between you and the goal, and how many teammates are near you. If you can go forward with your teammates on one defender: go! However, if you are just across the centerline, on your own, and you see two defenders in front of you, then you'd better decide to keep the ball in the team's possession. Easy rule: is the number of opponents higher than the number of players you're starting the counter-attack with (including yourself), then break it off and opt for the save pass backwards.
Your teammate wins the ball?
If it's not you who wins the ball, but one of your team-mates, make sure you give support as quickly as possible. Offer your team-mate a save passing option, as he'll be put under pressure immediately after winning the ball. This can be done by getting close to him, or by making a run forward to 'stretch out' the field and force the opponent to fall back.
Now, hopefully, it's clear what to do when you or your team wins the ball. Can you start a counter-attack? Then do so. If not, keep ball possession and start building your way towards the opponent's goal. Let's move on to the other way around: the moment you lose the ball.
3.2 You or your team loses the ball
What has been described above also applies the other way around, of course. If you lose the ball, the opposing team has a good chance of starting a counter. Loss of the ball – especially on your own half – is therefore one of the riskiest moments in a match.
In the short time after losing the ball, your team must immediately switch from an attacking position to a structured defense. A few important rules apply here.
Closest puts pressure
The first is that the one who is closest to the ball must put pressure on the opponent with the ball. This can be you, but it can also be one of your teammates. The idea behind this is that the opponent is not given the opportunity to make a smart choice (e.g. to take a shot or give an assist). Because he is under pressure, his speed of action will decrease.
As a result, your fellow players will have time to get back in the right defensive formation (like 2-1-2). The slot is covered and the opponent has to chance to score in a counterattack. However, it's important that all five field players know what they have to do in these 2-4 seconds.
Common mistake
A common mistake is the following: teammate A loses the ball due to a bad pass. You are standing close to the ball-intercepting opponent, so you are the right person to put pressure on him. However, player A is fed up with his bad pass and decides to pressure the opponent as well in an effort to make up for his mistake. The problem? He is standing further away.
Now, two players are now putting pressure on one opponent. This makes it difficult for the remaining three players on your team to make a good defensive formation. If the ball-holding opponent decides to pass before you've surrounded him, his team plays a 4-vs-3 against your remaining teammates.
In short: sometimes you have to solve someone else's mistake. Sometimes, your teammate has to solve yours. In the end, you work together as a team, not as five individuals.
Chapter 4 – Tips from top forwards Pylsy, Zaugg, and Sjögren
Previously, we gave two goalkeepers the chance to speak and give you some specific tips training you in strength, condition and hand-eye coordination.
READ: Goalkeeper tips with Tiltu Siltanen and Johan Rehn
Now, it is time to give the goalkeeper's opponent the turn. We have asked Joonas Pylsy, Jan Zaugg, and Albin Sjögren some basic questions. Read on to find their answers!
Joonas Pylsy
Joonas Pylsy is one of the best centers in the world. With Classic he managed to win the Finnish league several times. On top of that, he also won the Champions Cup. After this, he left for Wiler-Ersigen (Switzerland) where he was on his way to the championship. Unfortunately, that league was shut down due to Covid-19. With the Finnish national team, he won the WFC twice, in 2016 and 2018.
Joonas, what do you think when taking a shot?
"Every time I get a chance to shoot, I try to score a goal", that's how he starts. For goalkeepers, this means: be vigilant and make sure you're always ready for the shot. For forwards, the message is: always be ready to take a shot.
"Of course, I have been scouting the goalie before the game and I know a little how he plays and what could be the weaknesses. How he keeps his feet, how he raises his hands. Does he jump a lot, does he come out a lot? Whether he plays inside and so on."
As much as we love floorball, we dedicate a lot of time and money to the FloorballToday project (more info here). That's why we ask you for a small monthly donation. By clicking the button below you can become one of our supporters and read the rest of the article. Thanks a lot! Already a patron? Then here is where you can login.
READ – Joonas Pylsy's incredible stats throughout his club career years
So Joonas tries to analyze the goalkeeper, both before and during a game. His goal: "I am therefore able to use different shots against different goalies. Shots up, down, or on the weaker side, for example."
How can a goalkeeper make a penalty shot hard for you?
"Surprising solutions make the penalty difficult, but if the goalkeeper is passive then it's easier for me." As a goalkeeper, you can conclude that it is worthwhile to be in control during a penalty shot. Johan Rehn also mentioned that he often tries to drive the penalty taker into the 'wrong' corner (on his backhand) and that he can come out of his goal proactively and aggressively if he sees an opportunity. Turning this around makes the lesson for a forward: try to take control yourself. Force the goalkeeper into making a decision, like falling on his 'weaker' side (usually, the side where his feet are).
In your opinion, Eero Kosonen is the best goalkeeper you've played with/against. Why?
What makes a goalkeeper good and difficult to pass? "He's so big, so there is not a lot of space in the goal." According to Joonas, Kosonen has no weaknesses, so "the shot must be really accurate".
No problem, according to Alexander Galante Carlström, who did just that in WFC2016.
How can your own goalkeeper help the team during a game in offense?
This question is about the team tactics and how the goalkeeper can contribute to them. For Joonas as a center, this is not directly relevant, because he is further away from the goalkeeper: "I can't hear his voice, so to me it would make little difference". However, he does state: "If the goalie talks a lot then it makes it easier to defend".
Top forwards in the SSL
Jan Zaugg and Albin Sjögren have met a few times during SSL games last season. Zaugg became the runner-up on the top scorers' list with 43 goals. On the top point scorers' list, Zaugg ended up at 7th place (60 points in 32 games), closely followed by Sjögren at 10th place with 56 points in 31 games.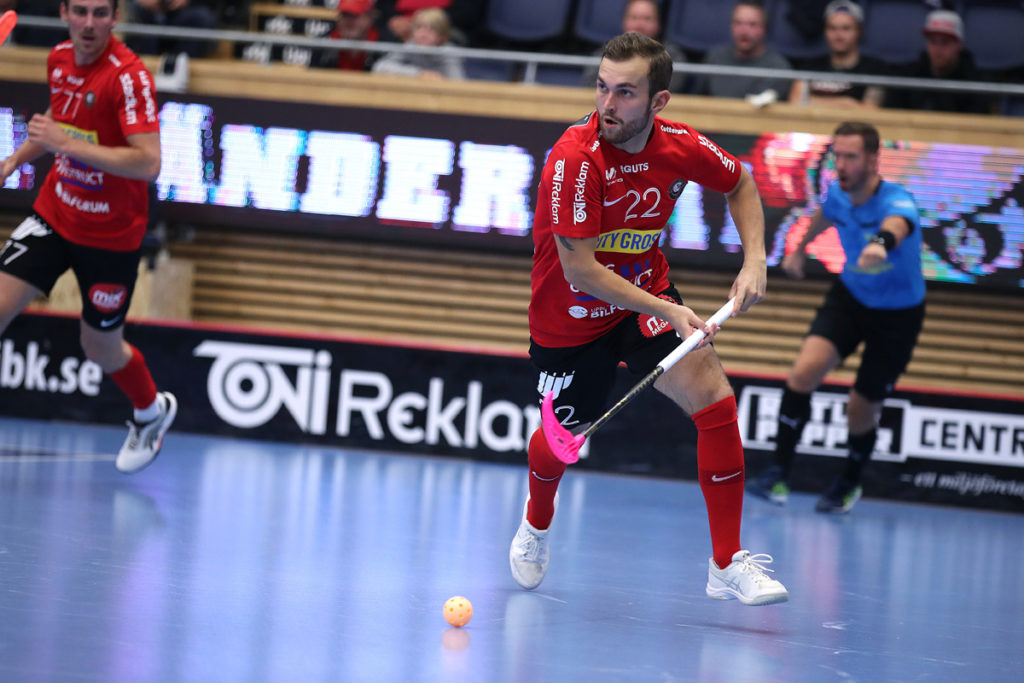 Sjögren's Storvreta beat Zaugg's Mullsjö twice last season: 4-3 (Zaugg scored once) and 10-6 (1 goal Zaugg, 3+2 by Sjögren). The third game was won by Mullsjö: 6-1, while both players scored one point that game. In the final ranking, Storvreta became the SSL's runner-up and Mullsjö reached 5th place.
Albin Sjögren
I'll start off with the tips from Albin Sjögren. In trying to hitting the goal, he usually aims his shots to the side of the goal. Aim just above the goalkeeper's legs: "First of all, try to hit the goal. Second, I think the weakness of all goalkeepers is under the arm, just above the leg." I've you've ever been a goalkeeper, for real or only during a training, you know these shots are hard to cover. Sjögren: "9 out of 10 shots become a goal if you shoot it there."
READ – Goalie tips (and: why forwards should play as a goalie every now and then as well
In the Forward Bootcamp Part 1, I gave you the advice to ask your goalkeeper to help you in finding the perfect moment to shoot. In a training, the goalie of the goal you're shooting at should yell 'Shoot!' every time he thinks there's a possibility to shoot, so you can learn to recognize these moments. Sjögren has a shouting goalkeeper too: Viktor Klintsten.
"I've had Viktor as a goalkeeper for a long time now. He's the best goalkeeper in the world and has been for 10 years", Sjögren says. "He is very loud and he requires a lot of us players and himself."
When asked how a goalkeeper can make a penalty shot harder for a forward, Albin Sjögren answers: "I think it's hard when the goalkeepers make themself big and I can't find a spot to shoot my penalties." In other words, as a forward, try to find time for the shot the moment the goalkeeper is sitting low instead of making himself big.
Jan Zaugg
Jan Zaugg has made an astonishing debut in the SSL last season. In his first game, he scored four times (!). As said, he ended up in the top 10 of goal and point scorers. In his first year at Mullsjö – he transferred from the Swiss Köniz last summer – he directly became the team's top scorer and helped the team reach 5th place.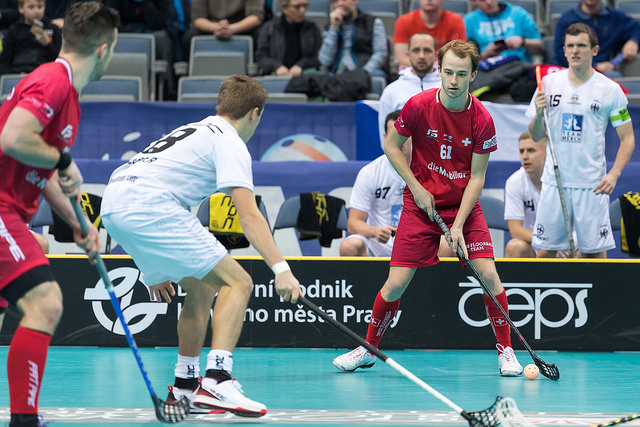 How does one score so easily? "First of all", Zaugg starts off, "I try to avoid shooting in the block." His aim is to have the goalkeeper see the ball as late as possible, giving him the least chance to save the shot. "If there's no block, I normally aim for the top corners by intention."
In a penalty series, Zaugg doesn't have a standard tactic. It depends on the goalkeeper, although during the penalty shot, he doesn't spend too much attention on the goalie. "If I know I may have to take a penalty shot I decide before the game what kind of variant I'll make, depending on the goalkeeper", Zaugg says. As he sticks to his decision, he's less focused on the goalkeeper during the shot (as he already decided on the type of shot he's going to execute).
Communication between players is always important, but as a forward, Zaugg doesn't feel the need of being coached by the goalkeeper: "For us strikers, it's not important that the goalkeepers communicate with us. I guess that's more important for defenders." However, during counter-attacks, Zaugg is always hoping for a quick throw from his goalie: "I just like when goalkeepers are ready to start a counter with a fast throw after they caught a ball."
Summarized
In these two articles, I hope to have given you tips and advice on how to become a better forward. The Forward Bootcamp can best be practiced during games and trainings, but make sure to have the theoretical part in your head anyway.
I'd like to thank Jan Zaugg, Albin Sjögren and Joonas Pylsy for their time and effort, it's great to see how you all help to develop floorball worldwide!