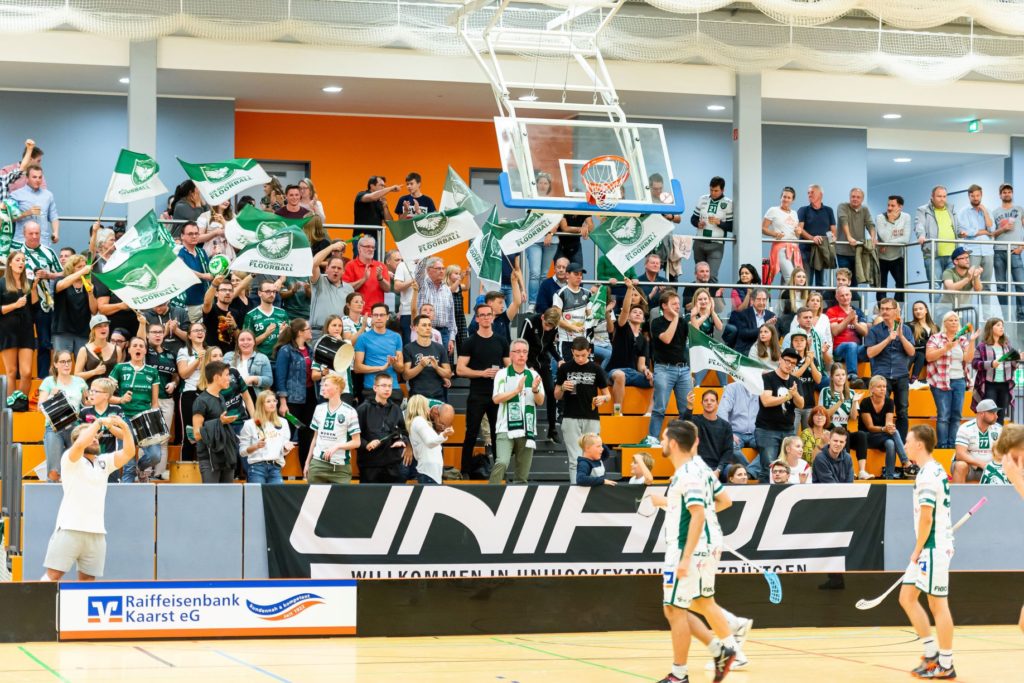 Is it round#3 already in the league? We barely started and now we're already knee-deep in. If it was not for all the extracurricular activities brought by Covid-19, this would be fun! Instead, we have halls half empty, problematic live-streams (although at least there are some), teams travelling across country and having to wear masks in the bus and so on…
Anyhow, the season is well under way now and the first indications on what to expect are in. Let us take a look at the results of the last weekend …this means rounds #2 and #3.
Round#2


DJK Holzbüttgen – SSF Dragons Bonn 11:6
Local derby is always something special regardless of the sport. Last year these two teams only got to meet each other ones in Holzbüttgen as the back-leg was cancelled due to Corona-epidemic kicking in. At that time, Holzbüttgen did keep the points but past performances are never a guarantee. As Bonn arrived to Holzbüttgen armed with two new Czech players, the leading scorer Adrian Braune together with the usual suspects amongst others, Florian Weißkirchen and Safak Temel, it anything but a done deal.
DJK is at the moment one of the few teams in the 1st League that has so far not added any new foreign help to their roster but rather relying on bringing up own juniors to complement the cadre known from last year.
The game started , like many local derbies, as a nervous deal where the teams were seemingly interested in doing a bit of a spring competition. DJK trying to quickly punch through the Bonn defence that seemed content to stay below centerline. However numerous mistakes from DJK-side gave Bonn plenty of chances to counter with a vengeance. So chances a plenty from both sides, but it was 4 goals each as the teams went to the first break.
The second period seemed to calm both teams somewhat , and apart from 2 goals from Dennis Schiffer in the first 3 minutes of the period, it remained rather unventful.
Going into third, Schiffer completed his hattrick and DJK started slowly but surely pulling away. In the end Bonn did not manage to find the keys through the DJK defence and despite goals from Adrian Braune (2+1) and Jakub Holes, it was not in doubt who would take the points in the end as DJK marched away with a decisive 11:6 victory.
Blau-Weiß 96 Schenefeld – UHC Sparkasse Schenefeld 3:8
If Schenefeld was hoping for a soft landing back in the first league, having to meet the reigning champion MFBC Leipzig and Weißenfels as the first two opponents was probably not the way to do it.
Rather than accept any predestined result, Schenefelf started strong out of the gates. Barely 11 Minutes had been played as they were already up by 3 as Weißenfels had not yet managed to score.
If the first period was for Schenefeld, the last two were then decisively to Weißenfels. With a 3-pack from Tim Böttcher, 5 other players contributed to their tally of 8 goals in the end. This only goes to show the width of their group. So three points to Weißenfels….as expected really,….even though Schenefeld did put up an impressive start.
Berlin Rockets – Floor Fighters Chemnitz 4:4 (ot)
If anyone thought this was going to be a done deal…they were perhaps surprised. Chemnitz was last year comfortably in the playoffs before the season got cancelled. Berlin instead was probably very uncomfortably going to the playdowns.
Chemnitz having recruited once again a mass of Finns to support their squad stumbled against Holzbüttgen in the first round and were now struggling against Berlin well until halfway point of the game. When Horttanainen got a two minute penalty and got company from Leo Tikka to the bench due to protesting to the referees perhaps slightly too forcefully? 😉 Things were not about to get better for Chemnitz as Berlin managed to extend their lead up to 4-1 during these penalties.
It was at this point Chemnitz finally started to turn things around. With a late second-period goal from Tikka, it was only Chemnitz that managed scoring in the third. With a couple of penalties for Berlin, it was overtime. Even this however did not manage to separate the two so a point each is what they managed in the end.
Red Devils Wernigerode – MFBC Leipzig 1:13
Wernige fell out of favor last year heavily as their season seemed to be a big struggle to avoid playdowns from beginning to the end. The Champions Leipzig were not about to do any favours to their hosts however.
The game was rather one-sided affair throughout the game as Leipzig ran away with a decisive 1:13 victory. The newcomer Heiskanen scoring a hattrick in the process supported by 7 other goalscorers by my count shows that Leipzig is not about to be relying on any one or two players for success this year.
TV Schriesheim – VfL Red Hocks Kaufering 8:4
Schriesheim arrived in the first league last year and had a number of encouraging results through the season. Having started their 20-21 campaign with a narrow 8-9 away-victory against Bonn, they must have felt comfortable receiving Kaufering as guests.
The hosts quickly did take control over the game and by the end of first period had managed to build up a 3-1 lead. Despite being awarded a penalty-shot in the second, Schriesheim was not quite able to pull away as the guests kept on coming and even caught up by the end of second trailing only by one at 5:4.
The third period started with two more goals from (Künnecke) to complete his hat-trick for the day, and as Alexander Burmeister then scored the 8th goal for Schriesheim with only 3 minutes to go, it was all over. Points stayed in Schriesheim.
Round #3
Yep…this weekend was a double-tally so let us dive direct into the results of the 3rd round.


TV Schriesheim – DJK Holzbüttgen 5:12
With both teams winning their not only Saturday-games, but both winning their first two games in the league, it was to be seen who could keep the record clean.
For DJK this was not a done-deal by any means. Knowing that the floor in Schriesheim is, well how to put it…less than ideal and causing the ball to bounce all over the place. Add to that the aggressive playing-style of the hosts, DJK knew they were facing a challenge as the home-team was ready to pounce on any mishandling of any sort.
If one would be looking at the numbers only, it would look like DJK ran away with the game already in the first period as the junior Niklas Stammen managed a hat-trick of his own and the guests took 4-1 lead before the end of first period. The truth however was that the aggressive pressing-style of Schriesheim took some time to adjust to and was it not for Jan Saurbier in DJK -Goal the numbers could have been quite different. The hosts were outshooting their guests by a wide-margin, it was only the clinical finishing of DJK that awarded them the lead.
The second period was already more controlled performance and slowly but surely, DJK edged away with a hattrick of his own by Nils Hofferbert (5 goals for the night) taking the break with 4:9 lead.
The third period saw DJK still extend their lead with another three goals and a goal by Felix Künnecke in the dying minutes of the game was not able to change the end as the guests ran away with the points through a decisive 5-12 victory.
Floor Fighters Chemnitz – SC DHfK Leipzig 11:3
Chemnitz took no chances against the newcomers to the first League as they proceeded to dismantle the Leipzig team already in the first period. A 7-1 schock-treatment from the hosts is something Leipzig never recovered from. In the end the 11 goals scored by the hosts against the 3 visitors managed to tally, left no doubt in the end who the better team on this day was.
UHC Sparkasse Weißenfels – Red Devils Wernigerode 13:5
It certainly does not seem like Weißenfels missed a beat since the last season was so abruptly ended some 8 months or so ago. This time the victim of this drive-by-shooting was Wernigerode. 13 goals is something nobody can afford against a team like Weißenfels as Wernigerode found out the hard way. We will have to see who will be the first one that will put up a serious dent on that Weißenfels armour and when.
Tables after the rounds #2 and #3


As you can see, there are still teams with only 1 or 2 games played so to deduct anything conclusive out of this would be foolish. Weißenfels, Holzbüttgen, MFBC Leipzig and Hamburg are yet to lose and have therfore earned the targets painted in their backs.
Scorerlists


Gameplan


So another double-pack for many teams coming up with many exciting matchups. Let us hope that more teams manage to get their live-streams in order so the low-turnout (due to Covid) can be turned around to our game.
In the meanwhile….stay safe…stay healthy….and see you around!
Cheers,
Kimmo
PS. By the way….I am sure you do not want to only look at photos of DJK Holzbüttgen….however these are the only photos I have easy access to. Send me photos of the games or teams if you have them and I will be more than happy to add those to articles with a credit of course.