Tiltu Siltanen made her WFC debut in 2017. She's ready to fight for gold again.
In 2017, Finland became runner-up. The team is eager to improve on this. We spoke about the WFC – and other topics – with team Finland and SB-Pro's goalkeeper Tiltu Siltanen.
What made you decide to become a goalkeeper?
I think it was 6th grade in school when we played some kind of floorball and our teacher told me I was doing a good job as a goalkeeper. So I went to try it in a floorball club and found it was a bit different (=more difficult) than I thought so I switched to defense instead.
After that season our goalie quit playing so everyone had to try it out and I got some nice catches so the coach asked if I could play the next tournament in the goal. That one tournament became the whole season and ever since I've enjoyed my spot between the posts.
(Article continues below photo)
How is the regular season with SB-Pro going so far? It seems it's not the hardest season in the Salibandyliiga as you have 26 points after 9 games.
So far it's been good. Even though we have got a nice amount of points so far it has not been granted, we really had to work hard for those points and we have to keep working even harder if we want to stay on the same track.
Actually I think this must be the hardest season in Finnish league during my floorball career. We got eight teams in League A and the results have been really tight and at this point, it's almost impossible to know which teams are going to be in the top3 after the regular season.
How are you and your team preparing for the upcoming WFC?
We had quite many training camps during this summer plus a tournament against Switzerland and the Czech Republic and the EFT where we have been building the team and going through gameplan and stuff like that.
(Article continues below photo)
We are heading to Canarian Islands at the end of November for some vitamin D and last-minute preparations. 😊🌞
It will be your second WFC after the 2017 edition. What are your goals?
Yes, it will be. The goal is to brighten the silver into gold. On a personal level, I'm focusing on playing on my best level and help the team that way in the chase of the team's common goal.
I'm also looking forward to enjoying the top-games and the international atmosphere
Last time, you lost the final against Sweden after a penalty shootout. Can you tell us your memories from that game?
Well, actually I got not so many memories from that game as I was really concentrated during.
(Article continues below photo)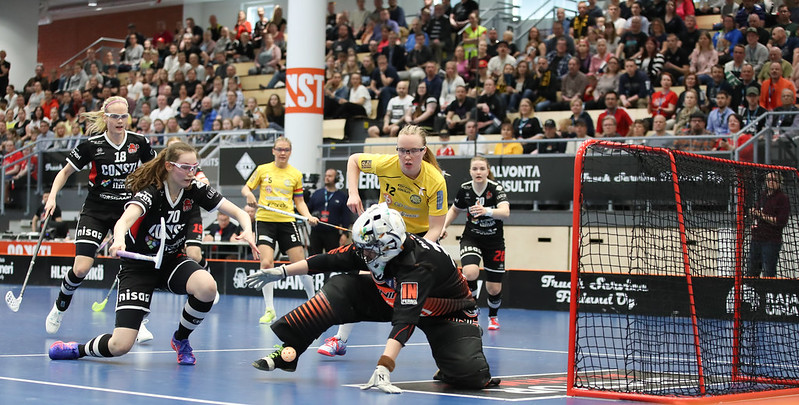 The main thing I can remember though is that we fought really hard and tied the game after being behind to Sweden for the first half of the game. I still can't believe it went down to penalty shots because we were so close on overtime.
What do you expect from Poland, Switzerland, and Germany, the teams you'll meet in the group stage?
All of them are interesting matches. I've actually never faced Poland or Germany so personally I have got not so many expectations. Switzerland is a more familiar opponent and there is also a lot of familiar players.
It's their home field so we must be focused and ready once we face them. I think no matter who the opponent is, the main thing for us is to play our own game through our strengths.