How to pick the right stick length? If you search online, you will quickly find a number of tables containing the 'right' sizes, but is this the best size for you as well?
The answer is… it depends.
With floorball stick length there isn't really a one-size-fits-all and there are definitely a couple of factors you can consider when deciding the length of your stick.
And that's what I am going to do in this article! I'll start by giving you a brief introduction and overview of stick lengths and what the difference is between shaft and stick length. After you know which size "roughly" fits your own length, I will give some reasons why you may want to deviate from the norm. Finally, I will give a couple of examples from professional players who chose to deviate from their size.
Want to find the perfect floorball STICK instead? Then check out our Ultimate Guide on Choosing a Floorball Stick (with our Recommendations).
Introduction to floorball stick length
A stick can be measured in different ways: in shaft length, stick length and stick height.
It can be all very confusing so let's start with the simplest one.
The shaft length is the length of your shaft. So if you remove your blade and measure what's left of your stick, that will be your shaft length.
Got it?
Now, let's put back the blade! Next what we will measure is the stick length. The length of your stick is measured by drawing a line from the top of the shaft to the bottom. But this time we don't stop when the shaft ends but when we reach the end of the blade if we follow this extended shaft line.
The stick length is approximately 10cm longer than the shaft length.
Last up is stick height. Look at the kiddo below: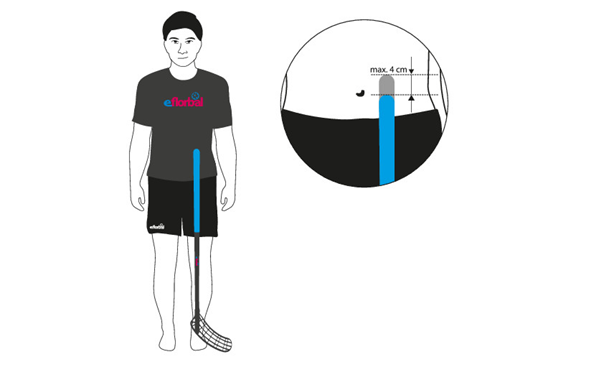 The happy fella has his stick completely vertical. If you measure down – from the top of the shaft until the extended shaft line hits the floor – that's your stick height.
Roughly, the stick height is ~10cm longer than the stick length and ~20cm longer than the shaft length.

If you feel that all this is pretty confusing then that's normal because the truth is… it is pretty confusing.
But don't worry, it will all be clear soon. Let's get you a stick first!
Which size fits you?
But from now on it will only get easier so hang on tight. There are two possible scenarios.
You have a couple of sticks you can test
You have to "guess" and don't have sticks nearby
Let's start with the first scenario.
You have a couple of sticks at your disposal
In case you have the possibility to go to a floorball shop, you can try some sticks of friends or borrow from your club, it makes things a lot easier.
In this case, a good Rule of Thumb is the 'bellybutton rule', which can be seen in the picture below of eflorbal.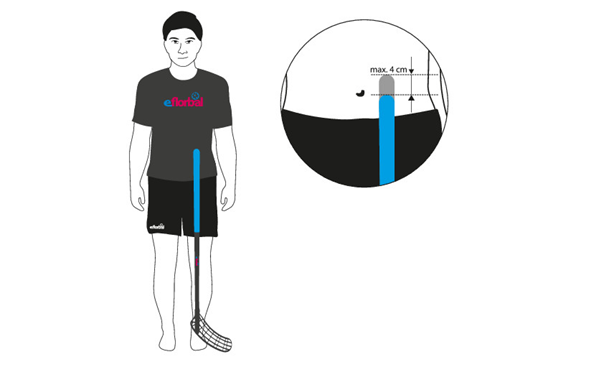 Put the stick against your body, completely vertical, and see if the top comes out approximately at the navel. This is 9 out of 10 times sufficient in finding the right stick length.
In some cases you'd want to have a bigger ór shorter stick, just scroll down and we'll explain when to deviate from this general advice.
You don't have a couple of sticks nearby
As much as we love floorball, we dedicate a lot of time and money to the FloorballToday project (more info here). That's why we ask you for a small monthly donation. By clicking the button below you can become one of our supporters and read the rest of the article. Thanks a lot! Already a patron? Then here is where you can login.