The list of the world's 10 best floorball players of 2018 is released and we find a lot of changes. Many stars are missing and Sweden no longer dominates the list. The list was made by Innebandymagazinet together with national team coaches and international media.
LIST: Top 10 players in the world (2017)
10. Eemeli Salin, Finland & SC Classic (-)
Eemeli Salin has been a key player in the Finnish national team as well as in his team SC Classic. This tall forward is a threat whenever he is on the ball and can see his marvelous year of 2018 (WFC Gold with Finland, and with Classic he won the Finnish Championship and Champions Cup) crowned with a place in this list.
9. Pascal Meier, Switzerland & Grasshoppers Zürich (-)
Where last year Swedish goalkeeper Johan Rehn took the 9th place in this list, this year the honor belongs to Swiss goalkeeper Pascal Meier. Although on club level there wasn't much success, he truly shone during the WFC2018 in which he was awarded the tournament MVP prize as well as a place in the all-star team – in the semi-finals against Sweden he played an ungodly game.
8. Alexander Galante Carlström, Sweden & IBF Falun (1)
Fan favorite Alexander Galante dropped a couple of places. The winner of last year is still on the list but is probably not happy with an 8th place. Most known for his unstoppable shots, the forward has kept up racking goals but was relatively invisible during the WFC and Swedish finals.
7. Robin Nilsberth, Sweden & Storvreta IBK (-)
Storvreta's powerhouse is on the list and for good reason. The player is not only one of world's most dependable defenders who knows what it takes to defend against the best players in the world, he also comes with an almost unparalleled offensive quality. This season, he has 41 points so far – a lot for a defender.
6. Nico Salo, Finland & SC Classic (5)
Nico Salo drops one place and finds himself at 6th position now. Last season he moved from FC Helsingborg to SC Classic, where he returned to his old team, and has already proven himself a crucial asset to the team – grown from his experience in the SSL.
5. Rasmus Enström, Sweden & IBF Falun (3)
Rasmus Enström is still one of world's best players but his years of domination seem over, or do they? In 2016, he was #1, last year #3 and now he has moved down to fifth place. The technical forward and partners in crime with Alexander Galante Carlström is still one of world's best players, however, and fans can be delighted to see him in this list.
4. Peter Kotilainen, Finland & Happee (-)

Perhaps one of the more unconventional players, the high energy forward has proven himself a deadly threat time and time again. For the second time in a row, he dominated the WFC finals – giving the Swedish defenders the worst of times.
3. Emil Johansson, Sweden & IBF Falun (7)
A big leap up the list for probably the most offensive defender in the world. Completely in tune with Falun's first line, he is one of the biggest reasons of Falun's dominance in the last years. Perhaps sometimes overshadowed by the more visible Rasmus Enström and Alexander Galante Carlström, it's a delight to see the defender getting the credit he deserves – best Swedish player of 2018.
2. Krister Savonen, Finland & SC Classic (2)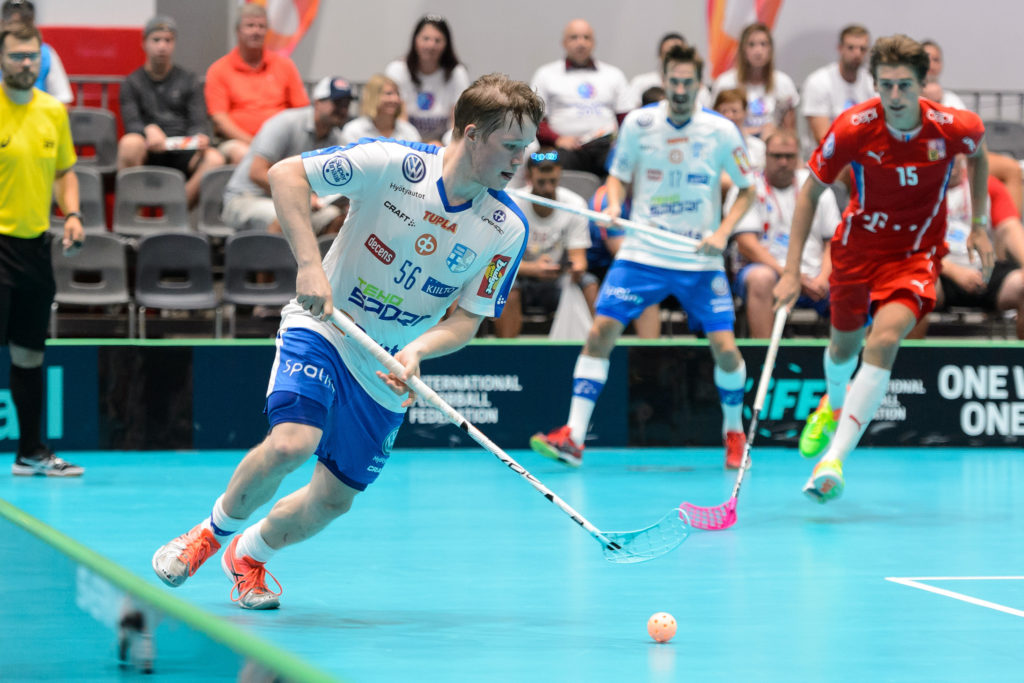 Finland's super-defender Krister Savonen has in a couple of years grown to become a world-class player and is again on the second place. The offensive defender got a technique and moves that he can use to fool around with any opponent, whether it be a youngster or a player in the Swedish national team. Savonen can call himself best field player of 2018 because the first place goes to no one other than…
1. Eero Kosonen, Finland & SPV (4)
For the first time in history, a goalkeeper has won the list of best player! That means Finnish national team goalkeeper is not only world's best goalkeeper but also world's best player. With tons of experience from the SSL, the Finnish ball stopper, is one of the reasons why Finland has taken the first place at the WFC for two times in a row.