The list of the world's 10 best floorball players of 2017 has been published, and it features 6 Swedes, 3 Finns, and 1 Czech! The list was made by Innebandymagazinet together with national team coaches and international media.
LIST: Top 10 players in the world (2016)
10. Albin Sjögren, Sweden & Storvreta IBK ( – )
Storvreta's 23-year recently became the Swedish Super League's best goal scorer of 2017/18 with his 70 points (32+38). In his first-ever spot in the top 10 ranking, he claims the 10th place – however, if you take into consideration his progress in the last few years, it wouldn't be a surprise if he would climb his way toward the top sometime in the future.
WATCH: Albin Sjögren's 5 best plays from last season!
9. Johan Rehn, Sweden & IBF Falun ( – )

IBF Falun's wall Johan Rehn has been considered to be Sweden's #1 goalkeeper ever since Patrik Åman's retirement in 2016. The 28-year old has won it all – Swedish- and European championship with Falun, and the World Floorball Championships with Sweden in 2014.
8. Tobias Gustafsson, Sweden & Storvreta IBK ( – )
Storvreta's speedy defender Tobias Gustafsson joined the team on a transfer from Linköping IBK last summer. The 25-year old stood for 38 points (19+19) this season, more than any of the other defenders in the team. However his strengths aren't only in the offense, his defense is of world class as well.
7. Emil Johansson, Sweden & IBF Falun (8)
Emil Johansson is a key player in Falun's notorious first line. His position as defender can sometimes be completely forgotten as he's often found running around in the offensive zone, utilizing his quick feet, great technique, snappy shot and genius passes which he often uses to assist Galante.
WATCH: Emil Johansson's Top 6 plays from last season
6. Matej Jendrisak, Czech Republic & Linköping IBK (10)
Czech Republic's center tank Matej Jendrisak climbs the list 4 step from 2016 after yet another year of great performances. This season he finished at 10th place in the SSL scoring league with his 55 points (33+22).
5. Nico Salo, Finland & FC Helsingborg (5)
1 out of 3 players who keeps his spot from last year is Finland's Nico Salo. After becoming Finnish champions with SC Classic in the spring for the 2nd year in a row he left for SSL and FC Helsingborg. Finnish sport journalists nominated him as Finland's best floorball player of 2017.
4. Eero Kosonen, Finland & Växjö Vipers (2)
Highest ranked goalkeeper on the list is once again Växjö Vipers' Eero Kosonen. This isn't the first appearance for the 31-year old in the top 10 list. In 2015 he was ranked at 10th place, last year 2nd and now a small step back to 4th place. However he still rather uncontroversially considered to best the best goalkeeper in the world.
3. Rasmus Enström, Sweden & IBF Falun (3)
IBF Falun's captain Rasmus Enström is once again found at the 3rd place. Formerly the best player in the world (2015), he's taken a step back in the list the last couple of years to make room for his radar partner to Alexander Galante Carlström. The 28-year old has a world-class, if not the best technique in the world which he makes sure to utilize on the field. This season he became Falun's best scorer at 63 points (28+35).
WATCH: Rasmus Enström's 7 best plays from last season
2. Krister Savonen, Finland & SC Classic (7)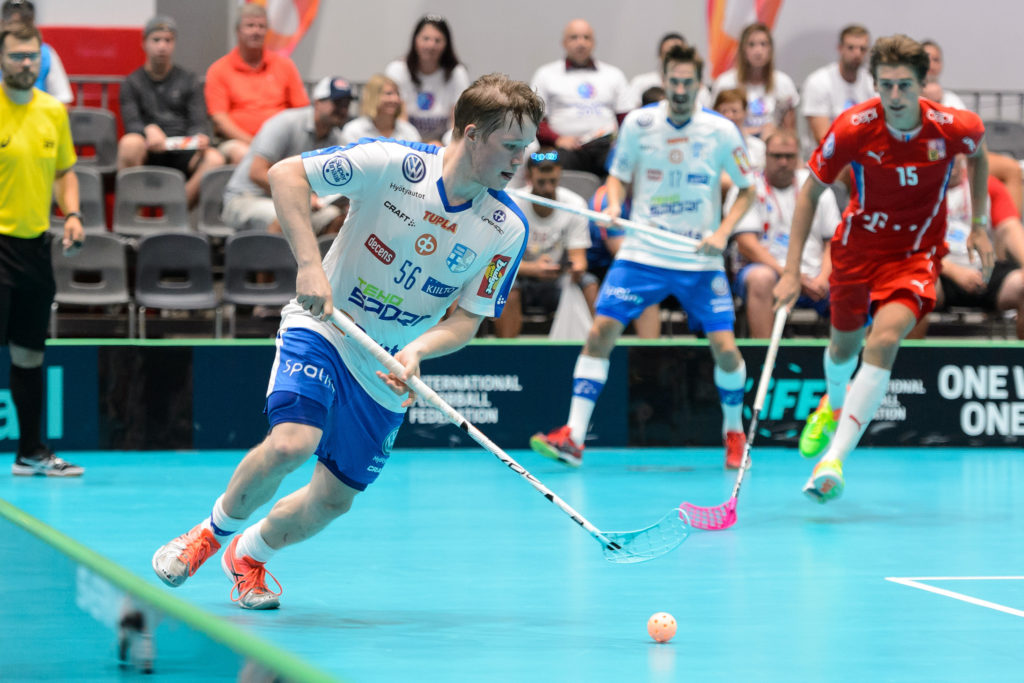 Finland's super-defender Krister Savonen has in a couple of years grown to become a world-class player. The offensive defender got a technique and moves that he can use to fool around with any opponent, whether it be a youngster or a player in the Swedish national team.
1. Alexander Galante Carlström, Sweden & IBF Falun (1)
IBF Falun's Alexander Galante Carlström holds on to the award he got last year as the world's greatest player. The 29-year old has a shot that's completely unmatched. For several seasons he's been scoring a crazy amount of goals and is despite his age already the best goal scorer of all-time in the Swedish Super League.