The floorball season came to a screeching halt after the COVID 19 pandemic paralyzed much of the world. Does that mean that there is nothing to report?
On the contrary!
Below the surface and amidst the empty floorball fields many clubs have already announced their transfer bombs of which the announcements were sped up by the Coronavirus.
In this article, I'll list the top 10 transfers so far. Many of them are international transfers of national team players of Sweden and Switzerland and were already negotiated during the regular season.
These transfers showcase the strong connection between Swiss and Swedish floorball which, I hope we can all agree on, is good for floorball as a professional sport. There are many more transfers rumors, some of which will come into fruition in the coming months and we will write about them too in a follow-up article.
In this article I will focus only on male players. If you'd like to also see a female list, please support us on Patreon and let us know.
#10 – Carl Kostov-Bredberg, Zug (SUI) to Sirius (SWE)

Carl Kostov-Bredberg kicks off the top 10 transfers of this season. Two seasons ago, the 26-year old defender changed Sirius for Zug United. Now he will return to his mother club. This is particularly good news for Sirius where a lot of players are either leaving or quitting altogether. Kostov-Bredberg has played two excellent seasons for Zug United and also had a couple of features in the Swedish national team – with a bit of luck he will be in the Swedish WFC squad of 2020. Kostov-Bredberg will be missed dearly by Zug but, fortunately, as we will see further in the list, an excellent (Swedish) replacement will come their way!
#9 – Tim Braillard, Mullsjö (SWE) to Alligator Malans (SUI)
One in, one out. That's how things seem to work with Mullsjö. It is Tim Braillard, the Swiss national team center, who returns to Switzerland and his mother club Alligator Malans after a two-year stay in the Swedish SSL. Tim Braillard had a successful two seasons in Sweden quickly feeling at home with Mullsjö and their fans. Last year he was joined by fellow Swiss Jan Zaugg who, to the relief of many, decided to add at least one year to his time with Mullsjö. However, Zaugg will have to represent Switzerland by himself.
#8 – Nicola Bischofberger, Wiler-Ersigen (SUI) to Linköping (SWE)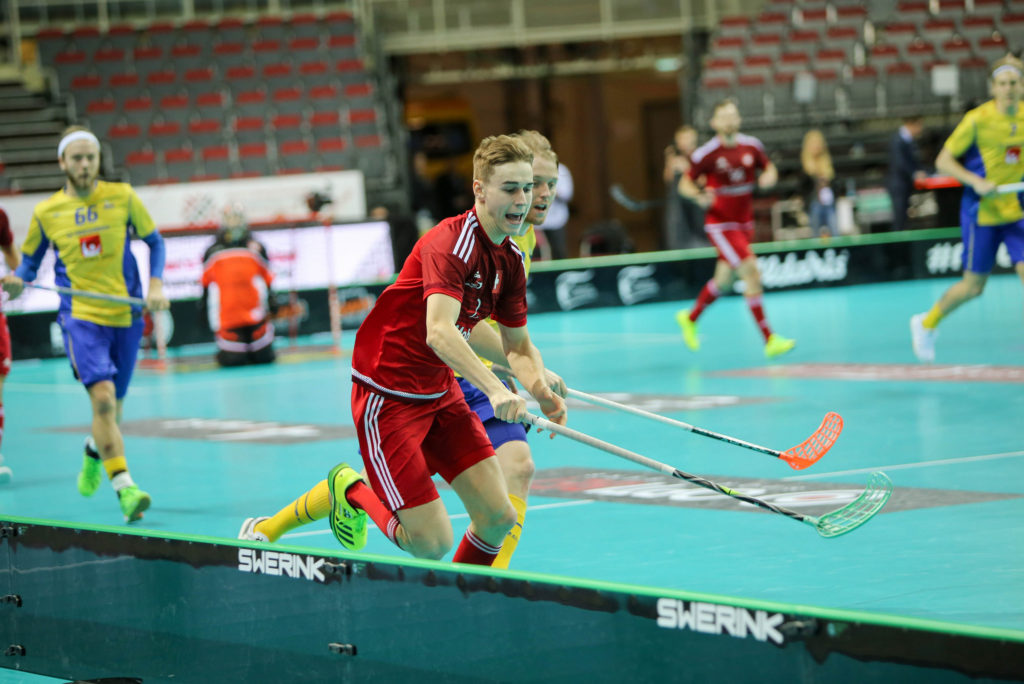 Nicola Bischofberg returns to Sweden! Some of you may remember Bischofberger's time with Falun, the short stay with the Swedish top club was not a success but despite that, he remains the first Swiss to ever win the Swedish championship*. This time it's not Falun but Linköping to sign the Swiss national team player, an interesting turn of events. They do this together with another Swiss national team player which we will see further down in this list.
Correction: as an attentive reader pointed out in the comments, it was, in fact, Swiss goalkeeper Mark Wolf, who was the first Swiss to win the Swedish Championship. He did this in 2001 with Pixbo in the Elitserien, the precursor of the SSL.
As much as we love floorball, we dedicate a lot of time and money to the FloorballToday project (more info here). That's why we ask you for a small monthly donation. By clicking the button below you can become one of our supporters and read the rest of the article. Thanks a lot! Already a patron? Then here is where you can login.