We're back with part 2 of our Powerplay article!
Haven't you read the first part yet? Then click the link below to check it out.
READ – Powerplay essentials: How to set up the Perfect Powerplay
(Featured image by Per Wiklund)
In this article, we're going to take the basics a bit further and look at some plays with all 5 field players involved. We will draw on the positions and outlines from the first article and see how much further we can take it.
Below you find an index, you can click on the chapters to directly jump there.
Of course, we're not there yet with these basic rules, because we haven't scored a goal yet! How are we going to proceed from the matters discussed above?
Patience.
And by this I don't mean that you as a reader should be patient – you can even scroll impatiently if you want to – but that in a powerplay sometimes you have to be patient. Passing around to play your opponent out of position can take time, but in principle, you also have more than enough time. So don't be afraid to let the ball go around for a long time, as in the example below.
Make sure that there are always two safe passes possible so that the player in the slot is sometimes changing with another player. Also, make sure that the ball goes around the whole field and that there is always a safe option to play it back (to the last player).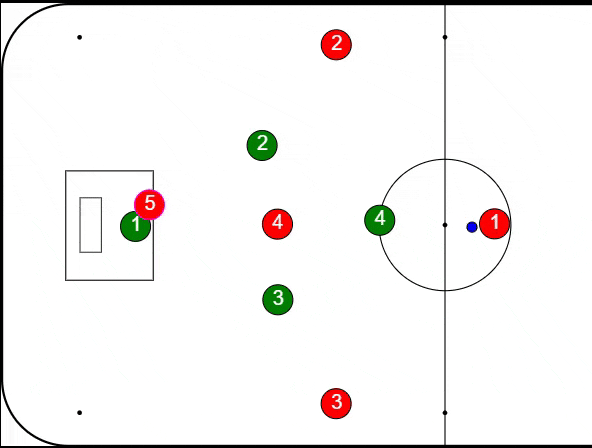 Because the opponent has one player less, they are more or less forced to keep the diamond position in place. The 1-2-1 does slide to the left and right, but the ball side and the auxiliary side are well taken into account. If we have the ball behind the goal, the opponent's formation becomes slightly more compact (their highest forward moves back a few steps), but if the ball is played back to our #1, the opponent immediately moves back to about 40-50%.
As much as we love floorball, we dedicate a lot of time and money to the FloorballToday project (more info here). That's why we ask you for a small monthly donation. By clicking the button below you can become one of our supporters and read the rest of the article. Thanks a lot! Already a patron? Then here is where you can login.