The FloorballToday Podcast episode #4 is out now! In this episode, we discuss anything about floorball in the Czech Republic, with help from Patricie Bartova, who's been working at the Czech Federation for years.
Links to streaming platforms: Spotify | Apple Podcasts | Stitcher | Podchaser |
Patricie started her job as a writer for Cesky Florbal – the Czech federation – almost seven years ago. Since then, she's taken care of the social media and interviews, watched many games, and even went to a few WFC's. We met her in 2017 during the WFC Bratislava (Slovakia).
(Article continues below photo)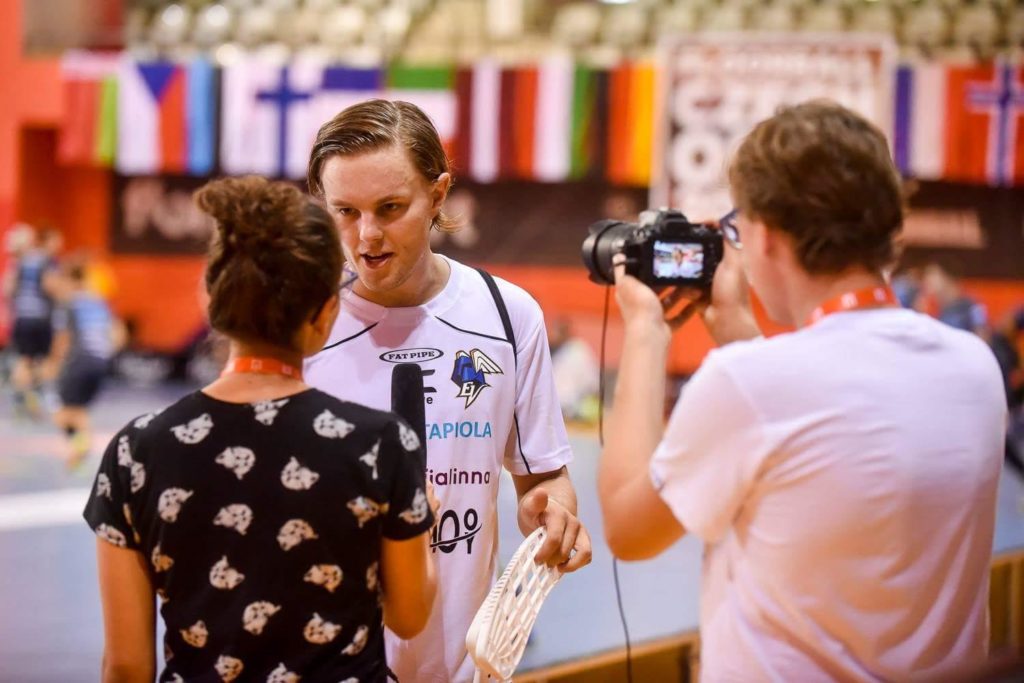 Men's national team
Those who have been following Czech floorball in the last year know about the internal problems and struggles within the men's national team. Patricie explains this is due to the fact some players weren't happy with the signing of head coach Petri Kettunen. There hasn't been a fix for this problem yet, although it might help the WFC 2020 has been postponed to 2021.
The national disaster of the WFC 2019
At the WFC 2019, the Czech national women's team nearly made it to the final. With a 6-2 lead and two minutes left to play, it seemed home team Switzerland was knock-out. Well, guess again: at 60:00, the score was 6-6 and Switzerland won the game in overtime. How did the team get over this? To make it worse, the following game for the bronze medal was also lost in overtime…
Golden U19 boys
We also discuss the U19 World Floorball Championships 2019 which were played in Halifax, Canada. The Czech squad won the tournament after beating Sweden in the final (and in the group stage as well). Patricie tells how this huge milestone was received in the Czech Republic, especially after all third and fourth places the ('big') national teams usually win at WFCs.
… and more
If you want to know everything about Czech floorball, then head over to our podcast and tune in to episode 4! Next to the national teams, Patricie also gives a quick guide into the Czech Superliga and the huge sponsor deal they've just landed.
Links to streaming platforms: Spotify | Apple Podcasts | Stitcher | Podchaser |
If you want to have a look at the Czech Superliga, please click this link to watch the games for free (disclaimer: trying in the Netherlands, we succeeded in watching these games, but we can't guarantee it'll work from your place as well). Click on 'Filtr:' and choose 'PRIPRAVUJEME' to see all upcoming games.