Another weekend of floorball action including some very promising games! Time to watch some Swedish floorball!

GUIDE: How to watch Swedish floorball

Highlighted games
Pixbo – Linköping (Saturday 20 January, 16.00)
The #3 meets #4 which is a setting we all can look forward to. Pixbo has lost some games in past rounds but still finds itself in the top 3. Linköping faces similar issues and trails 3 points behind Pixbo.
Storvreta – AIK (Sunday 21 January, 16.00)
AIK's final-period win against Örebro must have given the team some confidence but today they meet one of the strongest teams in the SSL. Technically not a derby, the 60-minute drive from Uppsala to Stockholm is a small distance to a lot of Storvreta fans. It will be an interesting game for sure and crucial for both teams. Storvreta follows Falun with only 2 points difference (and they meet again) which means the competition win is completely in their own hands. AIK desperately needs points in order to secure a ticket to the SSL season 2018/2019.
Mullsjö – Helsingborg  (Sunday 21 January, 17.00)
Another good game to enjoy on the Sunday afternoon. Since Juha Kivilehto's departure to Classic Helsingborg has performed very badly and won only one game out of the last five. However, Mullsjö has suffered from a massive drop in form themselves. If we count only the last 10 games, the team would be ranked second to last with only 10 points.
Dalen – Thorengruppen  (Sunday 21 January, 18.00)
The Umeå derby, this year, is a pain in the neck for Dalen. Thorengruppen, regarded one of the weakest teams in the SSL, is meeting Dalen but the derby-setting negates a lot of difference in strength. Where most teams have an almost certain 3 points against Thorengruppen, this is far from true for Dalen. Both teams need the points, Dalen to keep themselves in the playoff area and Thorengruppen to avoid relegation.
OTHER GAMES (IN CHRONOLOGICAL ORDER)
Örebro – Falun  (Saturday 20 January, 13.00)
Växjö – Höllviken (Saturday 20 January, 18.00)
GUIDE: How to watch Swedish floorball

Standings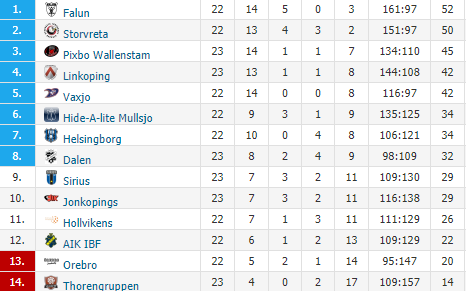 Before every SSL round, FloorballToday looks ahead towards the upcoming matches. We highlight matches of interest and provide links to the streams. Make sure to visit FloorballToday regularly to stay up-to-date about the most prestigious league in the world.
Join the Floorball Worldwide Facebook Group
Floorball Worldwide
Facebook Group - 1.920 members!
| | |
| --- | --- |
| | Become a member |
For lovers of floorball worldwide! Here you find the latest news about floorball!