Another weekend of floorball action including some very promising games! Time to watch some Swedish floorball!

GUIDE: How to watch Swedish floorball

Highlighted games
Falun – AIK (Wednesday 24 January, 18.30)
Probably not the evenest match you can find but it can be a spectacle nonetheless. AIK's form hit rock bottom while Falun (now with Alexander Galante Carlström) is stronger than ever. If you want to see lots of nice goals, this is the match you'd want to watch. But the question is: can Falun break their old 17-2 record?
Växjö – Mullsjö (Wednesday 24 January, 19.00)
Växjö and Mullsjö both had a tremendous start of their season but suffered in the mid-season period. Still safe at a #4 and #6 position respectively, their goal is now to climb up the ladder to avoid heavy competition in the playoffs!
Sirius – Storvreta  (Thursday 24 January, 19.00)
The final Uppsala derby of the season – although there is a small chance the teams will meet each other in the playoffs but for that, Sirius definitely needs to win this game! It's a typical derby, Storvreta is the big favorite but that doesn't really matter in this setting.
OTHER GAMES (IN CHRONOLOGICAL ORDER)
Linköping – Helsingborg (Wednesday 24 January, 18.30)
Örebro – Dalen (Wednesday 24 January, 19.00)
Höllviken – Jönköping (Wednesday 24 January, 19.00)
GUIDE: How to watch Swedish floorball

Standings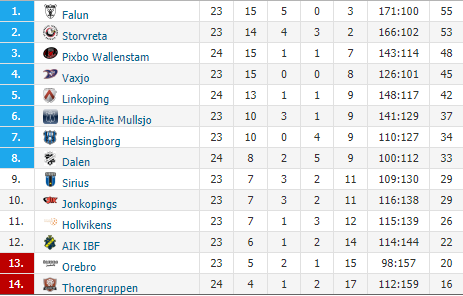 Before every SSL round, FloorballToday looks ahead towards the upcoming matches. We highlight matches of interest and provide links to the streams. Make sure to visit FloorballToday regularly to stay up-to-date about the most prestigious league in the world.
Join the Floorball Worldwide Facebook Group
Floorball Worldwide
Facebook Group - 1.920 members!
| | |
| --- | --- |
| | Become a member |
For lovers of floorball worldwide! Here you find the latest news about floorball!