Swedish Superligan
Why tonight's match vs Storvreta is Falun's most important match of the season
It's the El Clásico of floorball: Falun vs Storvreta. Tonight the teams meet for the 3rd time and is a must-win for Falun – if they want to have a chance of becoming first in the league.
There are two teams dominating the Swedish floorball scene at the moment. On one side the black – with a touch of pink – jerseyed stars from the mining village Falun and on the other side we find a club whose origins are rooted in a small village called Storvreta but who soon moved and started training in the bigger city of Uppsala. Since 2010 there hasn't been a team other than them to raise the Swedish Championships trophy. The current score: Storvreta 5x, Falun 4x.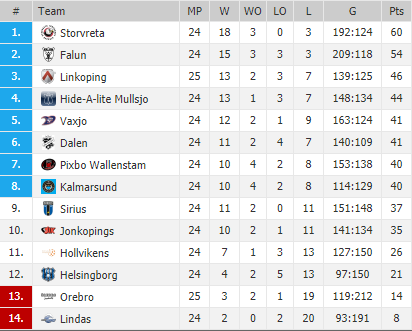 The current standings see Storvreta with an impressive 60 points. The gap with the competition is enormous. With around 8 games left to play, the chances of any club other than Falun to dethrone Storvreta from first position, are theoretical. Falun is trailing Storvreta by 6 points and that brings us to tonight's game.
At 18.00 local time, the Swedish reigning champions Storvreta will visit Falun. If Storvreta wins, the gap will be 9 points which will, in all likelihood, secure Storvreta's #1 position for the 18/19 season. If Falun wins, the gap will be down to only 3 points with all the pressure on Storvreta since Falun will take first place if both teams have equal points due to Falun's superior goal difference.
Watch the game here. Highlights can be found on FloorballToday.com after the game.
Follow us on Instagram!