As the end of the regular competition comes closer, it's time to take a look at which teams will be relegated and which teams will secure their spot for the next season. Out of the 14 teams in the SSL, the two teams at the bottom of the league will be relegated.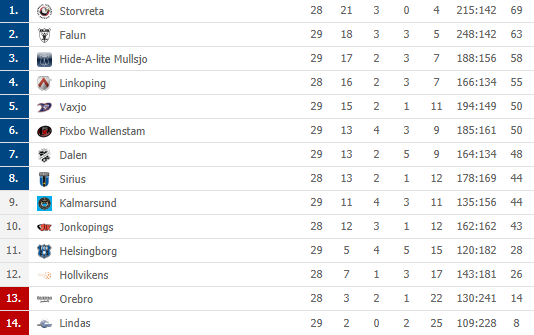 If we have a look at the last place on the table, we see Lindås Rasta IBK. The newcomer is therefore the first relegated team of the season. So far, Lindås Rasta IBK has had a tough season. Out of a total of 29 games, they won just two and gathered a total of eight points. They are eightteen points behind the safe 12th place, which is taken by FC Helsingborg. With only four games to play, it's not possible for Lindås Rasta IBK to gather enough points to extend their journey in the SSL.
Moreover, Lindås Rasta IBK will not play with a lot of confidence. Their last victory in the SSL dates back to 4 November, in their away game versus FC Helsingborg. So, even though they had a promising start to the season with an 8-9 victory over IBF Örebro, their adventure in the SSL will come to an end. However, this isn't a big surprise since many people already expected this to happen before the start of the season.
That brings us to the 13th placed team in the competition: IBF Örebro. After a solid first season in the SSL where they ended up in the 12th place with 31 points, they seem to be unable to keep that up this season. With 14 points so far, IBF Örebro is the other team beside Lindås Rasta IBK that is very likely to be relegated. Twelve points is the gap between them and the safe 12th place. With games left against teams like FC Helsingborg (11th) and Höllvikens IBF (12th), the fans of IBF Örebro may still have some hope that they can turn it around in the last four games of the season. Even though the previous games they played don't give much hope (8 consecutive losses), there still is a slight chance to prevent relegation.
FC Helsingborg and Höllvikens IBF are not likely to come in any real danger of being relegated, even though they are in 12th and 11th place. So far, it's been a tough and disappointing season for FC Helsingborg. They normally play for a spot in the play-offs but this season their focus is to secure a spot for next season's SSL, and they are likely to succeed. But who knows? Maybe the last couple of weeks of the regular competition will bring us a lot of excitement regarding the relegation zone!
Follow us on Instagram!