Which teams will qualify for the prestigious WFC2018 held in Prague, Czech Republic from December 1 until 9? The first qualifiers will be members of the Asia Oceania Floorball Confederation (AOFC) since their qualifiers are played from 22-27 January.
Teams
Group A
Australia (13)
South Korea (18)
Thailand (22)
China (38)
Group B
Japan (16)
Singapore (17)
New Zealand (26)
Malaysia (29)
Current Standings (Updated 26/01)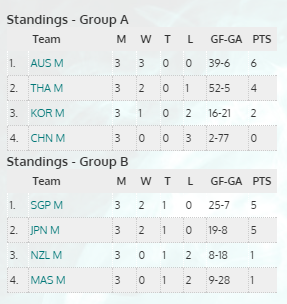 Qualification System
There are two groups (A&B) with 4 teams each. There are 4 WFC tickets given away to the 8 teams. The winners of both groups will qualify for the WFCQ finals while also receiving a ticket to the WFC. The numbers 2 of each group will play against the number 3 of the other group in the quarterfinals.  The winners of these matches will receive a place in the WFC and have to play each other for the 3rd place. Losers of the quarterfinals will play for 5th place. The teams that finished last in the group stage will battle for the 7th place.
Match Schedule
The time is local time (South Korea) which is Central European Time (CET) +8 hours. If the first match starts at 10:15 local time, this means the match is played at 02:15 CET. Matches can be watched for free on the IFF Youtube (see links below).
Monday 22 January
10.15 Singapore – New Zealand 10-2
13.00 Japan – Malaysia 12-3
15.45 China – South Korea 0-14
Tuesday 23 January
13.00 Thailand – China 37-1
15.45 Singapore – Japan 4-4
18.30 South Korea – Australia 2-9
Wednesday 24 January
11.00 New Zealand – Malaysia 5-5
13.45 Australia – Thailand 4-3
Thursday 25 January
10.15 Malaysia – Singapore 1-11
13.00 New Zealand – Japan 1-3
15.45 China – Australia 1-26
18.30 Thailand – Korea 12-0
Friday 26 January
12.00 7th Place: Malaysia – China 17-1
15.00 Semifinal: Thailand – New Zealand 11-2
18.00 Semifinal: Japan – South Korea 6-2
Saturday 27 January 
10.00 5th place: New Zealand – Korea
13.00 3rd place: Thailand – Japan
16.00 Finals: Australia – Singapore