There are some great games waiting for us this weekend and this time the games have almost no overlap – the diehard fan can watch almost all games. We highlighted some games that we recommend! 
GUIDE: How to watch Swedish floorball
EVERYTHING ABOUT THE PREVIOUS ROUND
Highlighted games
Örebro – Dalen (Saturday 14 October, 13.00)
Örebro is an exciting fresh team to follow. The newcomers had never played in the SSL prior this season but have taken the league on by storm. With a surprising overtime victory against Storvreta, an extremely sick comeback against Sirius and a solid victory against AIK, the team took everyone's attention. When the team lost against Falun this round with 1-10, it was clear that there may be a ceiling to their potential but we still have to figure out where that ceiling is exactly. And there is not a better team in the world to figure that out than Dalen, a rocksteady play-off team.
Sirius – Storvreta (Saturday 14 October, 15.30)
Derbies are often the best matches and the Uppsala derby is arguably the most exciting of them all! The history of the rivalry between these teams goes back years and the outcomes have been much more even than the relative difference in strength between these teams would predict. Storvreta gained some momentum in the past couple of games after a slow start while Sirius has played better than you would think looking at their current standings. Yes, the loss against Örebro was a classic example of overconfidence but losing with 4-6 against Dalen and taking 1 point from Falun is not that bad at all. All in all, Storvreta will be a small favorite but… derby.
AIK – Falun (Sunday 15 October, 19.00)
AIK has not started the season particularly well and even the most die-hard fans admit that there are chances the team will relegate to the Allsvenskan. However, perhaps that prediction is a bit too premature but next game against Falun will be quite a match. Last year, we were almost guaranteed many incredible Falun goals and it looks like there hasn't changed much between both teams.  Will we see another monster score or can AIK surprise?
OTHER GAMES (IN CHRONOLOGICAL ORDER)
Växjö – Mullsjö (Saturday 15 October, 18.00)
Höllviken – Jönköping (Sunday 15 October, 16.00)
Linköping – Helsingborg (Sunday 15 October, 17.00)
GUIDE: How to watch Swedish floorball
EVERYTHING ABOUT THE PREVIOUS ROUND
Standings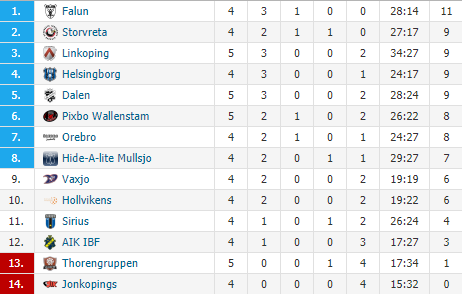 Before every SSL round, FloorballToday looks ahead towards the upcoming matches. We highlight matches of interest and provide links to the streams. Make sure to visit FloorballToday regularly to stay up-to-date about the most prestigious league in the world.
Join the Floorball Worldwide Facebook Group
Floorball Worldwide
Facebook Group - 1.920 members!
| | |
| --- | --- |
| | Become a member |
For lovers of floorball worldwide! Here you find the latest news about floorball!