The SSL is nearing its end and things couldn't be more exciting! Which team will reach the playoffs? Who will relegate and will Storvreta be able to maintain their first position? Just 2 rounds left!
GUIDE: How to watch Swedish floorball
Highlighted games
Linköping – Örebro (Saturday 3 March, 14.30)
Will today be the day that Örebro secures the ticket to the SSL season 2018/2019? With a 6-point gap between them and relegation candidate AIK and just 2 games to play, it doesn't take a math wizard to calculate the chances for Örebro to grab their 2018/2019 SSL ticket. Theoretically, AIK still has a chance but for that Örebro needs to lose their remaining two games and AIK needs to win theirs. If Örebro wins or ties the game today, expect a video of cheering Örebro players to show up in your FloorballToday feed who have something to celebrate after a tumultuous season.
READ – To relegate or not to relegate? Is there hope for AIK?
Höllvikens – Falun (Sunday 4 March, 16.00)
For those who haven't read the news, Falun has changed brands from Exel to Unihoc. However, changing a stick midseason is anything but easy, especially on world's highest levels where a small mistake can cost you a goal. Then the statistics: Falun's star players Rasmus Enström and Alexander Galante Carlström have yet to score a goal with Unihoc so we asked a couple of questions to the world's most famous sniper. Apart from that, there is not particularly much at stake in this game, but fingers crossed that we see a goal from at least one of them. And yes, you can expect a video when it happens!
READ – Alexander Galante Carlström: "You've gotta believe in a blade and try it out for at least …."
AIK – Jönköping (Sunday 4 March, 18.00)
Given Örebro fails to take at least one point against Linköping, we will hopefully see extremely motivated AIK players battle for their SSL future. Jönköping, however, has everything to play for themselves as they still have a chance at reaching the playoffs (even though a bit of luck is needed).
Other games (in chronological order)
Helsingborg – Thorengruppen (Saturday 3 March, 15.00)
Dalen – Växjö (Sunday 4 March, 16.00)
Sirius – Pixbo (Sunday 4 March, 17.00)
Mullsjö – Storvreta (Tuesday 6 March, 19.00)
GUIDE: How to watch Swedish floorball

Standings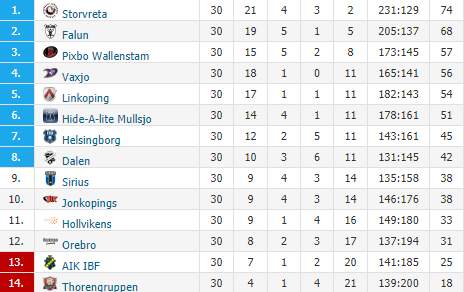 Join the Floorball Worldwide Facebook Group
Floorball Worldwide
Facebook Group - 1.920 members!
| | |
| --- | --- |
| | Become a member |
For lovers of floorball worldwide! Here you find the latest news about floorball!