Round 22 offered a small breather for both Sirius and Höllviken who got three surprising points after beating Falun (Sirius) and Pixbo (Höllviken). The aforementioned teams remain moderately unaffected at the top despite losing out on points whereas Sirius got a well-needed boost to get away from the teams balancing on getting relegated. Höllviken, on the other hand, is still poking at the playoffs after beating Pixbo, a win that could've put Dalen in a compromised position should they not have managed the notoriously tricky floor in Stockholm against AIK but as they did, Dalen can continue to look down towards Höllviken, both in the league and geographically. Above them and beneath them we find Mullsjö and Jönköping who apart from making a little Smålands-sandwich with Dalen, Höllviken, and Sirius in between, also battled out a derby into overtime as the cherry on top of the 22nd round. Jönköping drew the shortest straw for the third time this season and just as last time, big brother Mullsjö won with 7-6 in overtime.
Results & highlights
Thorengruppen – Storvreta 6-11 [highlights]
Linköping – Växjö 2-4 [highlights]
Höllviken – Pixbo 10-5 [highlights]
AIK – Dalen 2-4 [highlights]
Sirius – Falun 6-3 [highlights]
Mullsjö – Jönköping 7-6 (overtime) [highlights]
Standings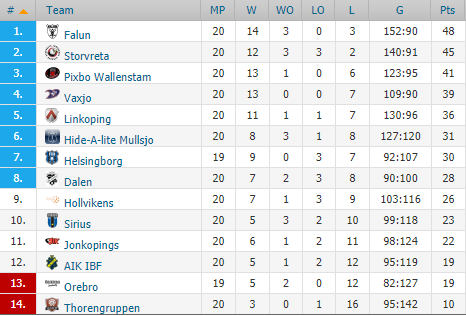 Join the Floorball Worldwide Facebook Group
Floorball Worldwide
Facebook Group - 1.920 members!
| | |
| --- | --- |
| | Become a member |
For lovers of floorball worldwide! Here you find the latest news about floorball!