After an over week-long break, the Swedish Super League is finally back with some great games this weekend!
GUIDE: How to watch Swedish floorball
Highlighted games
Falun – Mullsjö (Saturday 10 February, 18.30)
Great game between two titans Falun and Mullsjö. Mullsjö has performed very well this season and is a team known for its intense dedication and hard work. Falun has no points to lose if they want to have a claim on the first place while Mullsjö can really use the points. Some catastrophe has to happen to miss the playoffs but the higher the team ends, the softer the competition will be. Bonus: the teams have fought a fierce battle in the quarterfinals of season 2015/2016 where the game went all the way to a decisive 7th game which Falun won with 9-3.
Sirius – Jönköping (Sunday 11 February, 16.30)
Sirius and Jönköping will likely play one of their most important games of the season. Both teams are found just below the playoff line and are thus competing for a playoff spot together with Helsingborg and Dalen. Taking 3 points from this game will be incredibly important with just 5 games left to play!
Other games (in chronological order)
Örebro – Helsingborg (Sunday 11 February, 13.00)
Pixbo – Thorengruppen (Sunday 11 February, 16.00)
Höllviken – Storvreta (Sunday 11 February, 16.00)
Växjö Vipers – AIK (Sunday 11 February, 16.30)
Dalen – Linköping (Sunday 11 February, 17.00)
GUIDE: How to watch Swedish floorball

Standings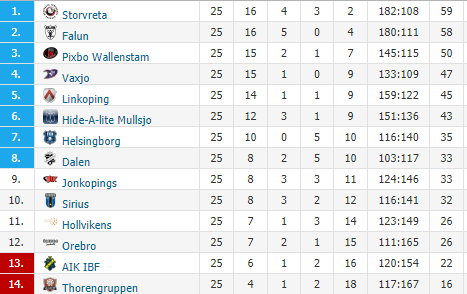 Join the Floorball Worldwide Facebook Group
Floorball Worldwide
Facebook Group - 1.920 members!
| | |
| --- | --- |
| | Become a member |
For lovers of floorball worldwide! Here you find the latest news about floorball!