Czech Superliga
Sparta Prague – Dark horse for the Czech title | Czech Superliga
In the Czech Superliga, Sparta Prague is doing great. The team finished as the runner-up behind Mladá Boleslav. Is Sparta Prague really in title shape or is it a bubble ready to burst? Time for a closer look.
This year, Sparta is chasing the big boys of the highest Czech division. The team was on top for some time, until Mladá Boleslav took the lead. Sparta only suffered three losses, which is considerably less than last year. The team was also the team with the fewest amount of losses but did it earn them the regular season championship? Unfortunately (for them) not, it ended up with the same amount of points as Mlada Boleslav but came second due to goal difference.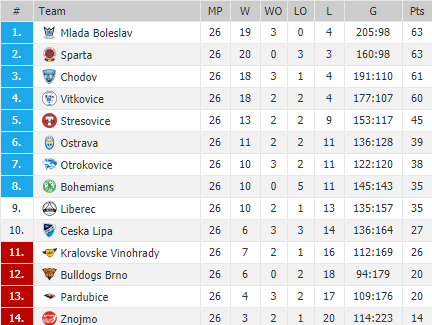 But what makes this team special? Let's look into it.
The squad consists of young players, as one of the most important players is the 20-years-old Marek Zouzal, who is Sparta's leading point maker with 34 points in 22 matches (18+16). Next in the mix, there are some middle-aged players. For example: ever-present Jan Marvánek (25 years old) with really skillful hands. Also, we cannot omit Slovenian sniper Luka Časar.
But what, in my opinion, moved Sparta to the next level is a trio of veterans in each part of the team. It starts at the goal: goalie Martin Beneš has the third-best save ratio in the league. Before him, defender Radim Křenek (on loan from Mladá Boleslav) scored 13 points in 22 matches and has a load of experience. Talking about experience, there is rejuvenated Milan Garčar. This offender played in every of the top four divisions in the world: with Falun and Helsinborg in Sweden, Nokian KrP in Finland and (his last foreign mission) Kloten in Switzerland. His points tally is also worth mentioning with 29 points (16 goals, 13 assists) from 19 matches.
If I have to make a prediction, I would say this team will make it to semi-finals of the playoffs. Once they're there, one of the traditional top teams will beat them.
Tomorrow the team will play its first quarter final game against Bohemians at 16.00 local time. And have you read our introduction of one of the outsiders for the Czech championship, Panthers Otrokovice?
Follow us on Instagram!