The regular season in the Czech Superliga is over. Eight teams have made it to the playoff spots:
1 Florbal Mlada Boleslav
2 Florbal Chodov
3 Vítkovíce
4 Bohemians
5 Sparta Praha
6 Panthers Otrokovice
7 Tatran Stresovice
8 Sokol Pardubice
Four teams will play relegation duels. They play a best-of-7 series and the winners will stay in the Superliga. Losers will have to move on to next round and will still face the danger of relegation. These four teams are:
11 Liberec
12 Znojmo Laufen
13 Bulldogs Brno
14 Florbal Ústí
More info will follow once the playoffs and playouts playing schedule is clear.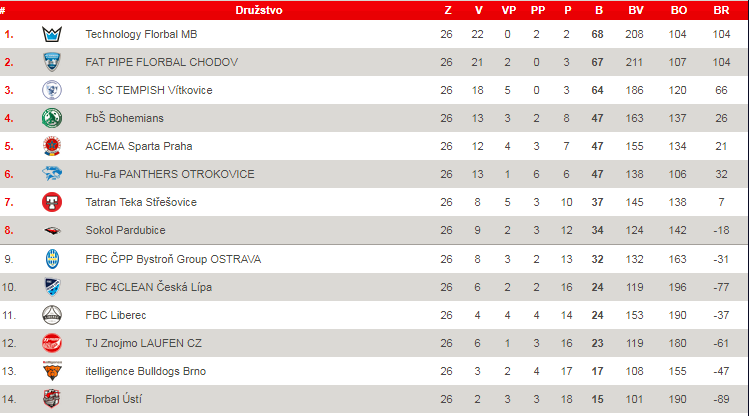 Join the Floorball Worldwide Facebook Group
Floorball Worldwide
Facebook Group - 1.920 members!
| | |
| --- | --- |
| | Become a member |
For lovers of floorball worldwide! Here you find the latest news about floorball!