Another SSL round has begun. This time starting just prior to the Champions Cup so we are guaranteed 5 days of consecutive floorball fun. Floorball bingewatchers, better make yourself ready! This round we will see all teams in action, apart from Storvreta and Pixbo, who – not entirely a coincidence – will give acte de presence at the Champions Cup in Borås.
Highlighted games
AIK IBF – Karlstad IBK
Wednesday 28 September 19.00 – Stream

AIK has gotten off to a very rollercoaster start including a huge loss versus Falun. Despite that, they still do well and have gotten 6 points out of 3 matches played. It seems that the relatively new team means some turbulent results and that gameflow works both ways for the team. If everything goes well, everything goes really well. If everything goes bad.. well, we saw what Falun did to them. In the last two games they conceded 25 goals, which is anything but solid. Karlstad hasn't started their season very well with just 3 points out of 4 matches. All in all, a very even match is expected with AIK being the slight favorite.
IBK Dalen – IBF Falun
Thursday 29 September 18.30 – Stream
Boy, oh boy. You'd better have nothing planned for this Thursday evening, because this will be one of the most important matches of the season! Both teams have 9 points, but Dalen has played one game less. This will be the game that decides which team takes the lead in the SSL and will be one of the few crucial matches between giants that people will look back to as a chart decider. After beating Storvreta and Pixbo, will Falun be next on Dalen's menu?
Other games (in chronological order)
Sirius – Thorengruppen
Wednesday 28 September 19.00
Link to the game: here
Växjö – Höllvikens 
Thursday 29 September 19.00
Link to the game: here
Linköping – Warberg
Friday 30 September 19.00
Link to the game: here
Mullsjö – Helsingborg
Friday 30 September 20.30
Link to the game: here
Ranking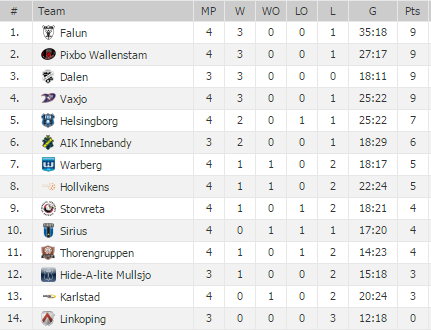 Before every SSL round FloorballToday looks ahead towards the upcoming matches. We highlight matches of interest and provide links to the streams. Make sure to visit FloorballToday regularly to stay up-to-date about the most prestigious league in the world.