So far the SSL season has been excellent and it has been a true roller coaster ride. A couple of teams really impressed and performed well above expectation while others have been disappointing to say the least.
The current standing
Let's have a look at the current standings.
A couple of things should be clear from the start. Falun, even though they had a mid-season dip thanks to some nasty injuries, is still leading strongly. In its heels we find Växjö and Mullsjö who are just a couple of points short. Then below that we find Linköping who suffered from the worst start in its history but managed to climb to an impressive 4th place nonetheless. If you look at the points we see a lot of competition between places 5 and 9. We can definitely prepare ourselves for tense moments as the SSL's regular season is coming to a close.
At place 9 we find FC Helsingborg. But wasn't this team in the top for a long time? Let's go back in our time machine to the end of November just before the WFC break.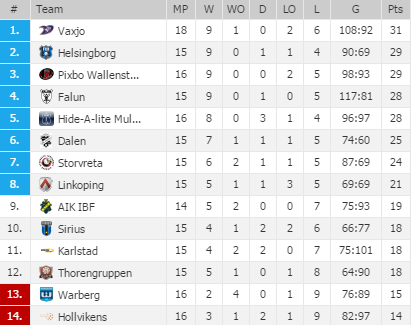 Here we see FC Helsingborg in good times. The team was ranked second (Växjö had played 3 games more though) with 29 points in 15 matches. A quick calculation shows that the team only managed to take 7 points since November! With a record like that, it is no wonder the team stands at the 9th place. How could this have happened? We have thought about it for a while and have come up with the following reasons.
The Mika Effect is over
When Mika Kohonen came back to Sweden everyone applauded the decision. And yes, he gave the squad a real boost which we can call the Mika Effect. However, people tend to get used to everything, eventually. The newness ends and the boost of morale is over. Was this the case?
Some teams tragically underperformed
FC Helsingborg had an amazing start and took a leading position quite rapidly. This was also possible because of underperformance of several key teams, something which Helsingborg took great advantage of. For example, Mullsjö can currently be found at #3 but only took 3 points out of their first 7 games. Linköping only managed to scrape 5 points from their first 10 games but now can be found at #4. Most teams have corrected themselves now but at the cost of… FC Helsingborg.
The SSL has never been more competitive
We realize it's a bold statement but we have to say it anyway. The SSL has never been more competitive than now. Every team has taken at least 5 (!) losses which is incredible in itself. Gone are the days where there is 1 team that dominates the competition completely leaving no doubt who will take the championship. This year, the top teams have 'only' an average of around 2 points per match while, at the same time, all the bottom teams have won quite some games. There are no certain wins anymore and that's great news for the sport! However, it's bad news for FC Helsingborg who are at the losing end of the fierce competition.
What do you think?
Join the Floorball Worldwide Facebook Group
Floorball Worldwide
Facebook Group - 1.920 members!
| | |
| --- | --- |
| | Become a member |
For lovers of floorball worldwide! Here you find the latest news about floorball!