A very busy January continues! This weekend the SSL has a couple of interesting games!

GUIDE: How to watch Swedish floorball

Highlighted games
Linköping – Växjö (Sunday 7 January, 14.00)
A great battle between two teams placed in the sub-top. Linköping is a small favorite here but it's close by all means.
AIK – Dalen (Sunday 7 January, 17.00)
It's almost a month ago since Dalen won their last game. Fair enough, the holiday break played a big role since it was only 3 matches ago since they last won but still. AIK desperately needs points, both to stay away from relegating but also to have a chance to reach the playoffs.
OTHER GAMES (IN CHRONOLOGICAL ORDER)
Thorengruppen – Storvreta (Saturday 6 January, 13.00)
Höllvikens – Pixbo Wallenstam (Sunday 7 January, 16.00)
Sirius – Falun (Sunday 7 January, 17.00)
Mullsjö – Jönköping (Sunday 7 January, 18.00)
GUIDE: How to watch Swedish floorball

Standings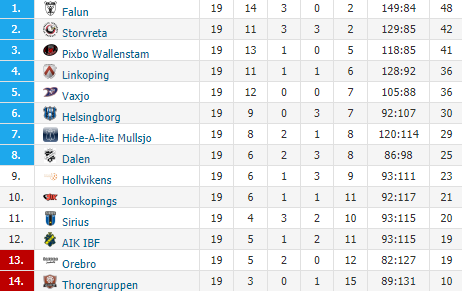 Before every SSL round, FloorballToday looks ahead towards the upcoming matches. We highlight matches of interest and provide links to the streams. Make sure to visit FloorballToday regularly to stay up-to-date about the most prestigious league in the world.
Join the Floorball Worldwide Facebook Group
Floorball Worldwide
Facebook Group - 1.920 members!
| | |
| --- | --- |
| | Become a member |
For lovers of floorball worldwide! Here you find the latest news about floorball!