Another weekend of floorball action including some very promising games! Time to watch some Swedish floorball!

GUIDE: How to watch Swedish floorball

Highlighted games
Storvreta – Falun (Saturday 27 January, 15.00)
What to say? The winner of this match will be the series' leader and can march all the way to being the competition winner. The previous two matches ended in a draw which shows these teams are on equal level with each other. This is the climax of the regular season and we can't wait!
Thorengruppen – Örebro (Saturday 27 January, 16.00)
Team Thorengruppen's last straw!  On the last position with 16 points, the Umeå-based team finds itself in a dire situation. If they lose this match they find a 10-point division between them and the #12 Örebro which is virtually impossible to cross. It's a must-win for Thorengruppen as well as for Örebro.
Sirius – AIK (Sunday 28 January, 16.00)
AIK is currently occupying one of the two relegation spots and certainly wants to get out before the regular season ends. One crucial match will be against Sirius. Every point counts at this stage! Sirius is currently between running away from relegation but still has hopes of reaching the playoffs. Helsingborg and Dalen, currently #7 and #8, are not far away and, more importantly, have lost form in the past couple of weeks.
OTHER GAMES (IN CHRONOLOGICAL ORDER)
Helsingborg – Pixbo  (Saturday 27 January, 15.00)
Jönköping – Växjö (Saturday 27 January, 15.00)
Mullsjö – Höllviken (Saturday 27 January, 16.00)
GUIDE: How to watch Swedish floorball

Standings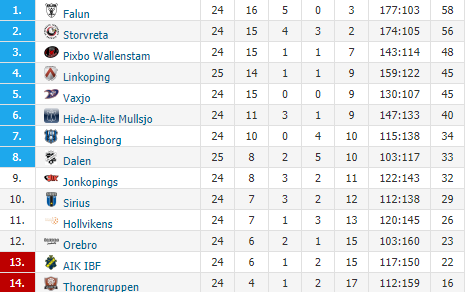 Before every SSL round, FloorballToday looks ahead towards the upcoming matches. We highlight matches of interest and provide links to the streams. Make sure to visit FloorballToday regularly to stay up-to-date about the most prestigious league in the world.
Join the Floorball Worldwide Facebook Group
Floorball Worldwide
Facebook Group - 1.920 members!
| | |
| --- | --- |
| | Become a member |
For lovers of floorball worldwide! Here you find the latest news about floorball!