Earlier this week we looked at AIK's perilous situation. The team is in a big crisis and needs a small miracle to escape the tenacious grips of relegation. Today we will be looking at the two SSL giants who are dominating the SSL during the current season: Falun and Storvreta. Which team has biggest chance to win the regular competition?
READ – Alexander Hallen: "We are going to stay on the throne and defend our gold!"
What does the competition look like now? Let's have a look at the current chart: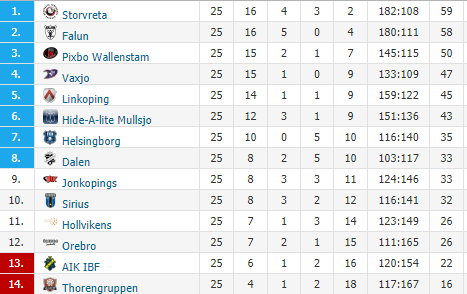 Stating that this is an interesting season, is quite an understatement. With newcomers Jönköping trailing for a playoff spot and AIK in the relegation area, this season turned out to be full of surprises. However, something that many predicted was Storvreta's and Falun's dominance in the chart which is, as far as we can say now, a correct prediction. Both were predicted to dominate the SSL but each for an opposite reason. Falun's strength has much to do with the fact that they currently have an almost identical squad as last year – which proved to be enough to win the Swedish Championship. Storvreta, on the other hand, has added a lot of players, something they desperately needed after a tough previous season. With the addition of Filip Stenmark (Warberg), Valdemar Alroth (Växjö), and Tobias Gustafsson (Linköping) the team added world-class players to its ranks.
Whether Storvreta can maintain the microscopic 1-point lead over Falun, is completely in their own hands. Simply put, if they all their remaining (6) games, they can crown themselves competition champions no matter how well Falun performs. But is this realistic?
Schedule Storvreta
11 February – Höllvikens #11
13 February – Pixbo Wallenstam #3
17 February – Växjö #4
25 February – Jönköping #9
28 February – Linköping #5
6 March – Mullsjö #6
This is quite a tough schedule for Storvreta. The team will meet the entire top-6 (apart from Falun), and Jönköping and Höllviken. If we look at Storvreta's match results earlier in the season against listed opponents things are starting to look quite positive for the team. Storvreta won all the games but needed overtime against Linköping which made the team drop one point.
Schedule Falun
10 February – Mullsjö #6
14 February – Helsingborg #7
17 February – Jönköping #9
25 February – Växjö #4
28 February – Pixbo #3
4 March – Höllvikens #11
Falun faces a similar rough schedule but, being the dominant force they are, they have shown little difficulties defeating them earlier this season. There is one interesting result though. On 29 October the team failed to win against Jönköping losing with 6-10 against the newcomers. Whether this is something they can take revenge on, will be for us to watch on 17 February.
Read – Albin Sjögren: "I believe that I will win the point league sometime in my career."
So, which team is going to win the SSL? The answer is perhaps quite simple: apart from a tiny head start both teams have almost equal chances to win the SSL. With 6 games left to play against the toughest teams in the SSL, the danger of a disastrous slip-up is always lurking around the corner.
Join the Floorball Worldwide Facebook Group
Floorball Worldwide
Facebook Group - 1.920 members!
| | |
| --- | --- |
| | Become a member |
For lovers of floorball worldwide! Here you find the latest news about floorball!