Some big games were played and we can see Växjö slowly moving to the top. Dalen dropped its game versus Falun and now has 9 points – but also played a game less. AIK is still doing very well and Sirius won a very important game versus Team Thorengruppen.
Highlighted games
AIK IBF – Karlstad IBK 7-6 [highlights]
A very tough game that started with a 2-2 draw after the first period. In the beginning of the second period Joakim Olsson scored twice after which his team increased the score to 6-2. A goal by Karlstad reduced the gap to 6-3. The final period saw a comeback of Karlstad who equalized the score to 6-6 with 5 minutes to play. AIK showed resilience and increased to 7-6  with just over 3 minutes to play. Despite a 6 vs 5 powerplay Karlstad didn't manage to score and had to go home with 0 points and remains the bottom team for now.
IBK Dalen – IBF Falun 4-8 [highlights]
At one point in the game the Dalen specators were forced to look at a 7-1 lead for the guests Falun. Dalen's performance was disappointing not only in defense, but especially in offense. Dalen performed below their potential while Falun exceeded theirs. Stars of the game were … [read the complete match report]
Other results
Sirius – Team Thorengruppen 4-1 [highlights]
Växjö – Höllviken 9-6 [highlights]
Linköping – Warberg 6-4 [highlights]
Mullsjö – Helsingborg 7-5 [highlights]
Ranking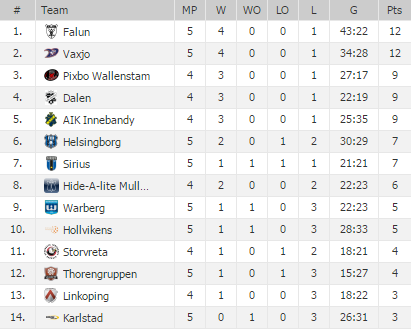 After every SSL round FloorballToday looks back at the matches played. Make sure to visit FloorballToday regularly to stay up-to-date about the most prestigious league in the world.
Follow us on Instagram!