Had a busy week? Catch up with the latest results and highlights of the Swedish SSL.
HIGHLIGHTED GAMES
AIK – Sirius 13-8 [highlights] [rinkside highlights]
It's not often you see more than 20 goals in one match but this was such a game. AIK won home against Sirius and takes important points.
Storvreta – Falun 3-4 (overtime) [highlights] [match report] 
An incredibly physical game unfolded in Uppsala as arch-rivals Storvreta hosted Falun on home soil! The game needed overtime to decide a winner – and it was Omar Aldeeb that did so.
Helsingborg – Pixbo 6-8 [highlights] 
Helsingborg could not prevent Pixbo from taking 3 points. Pixbo climbs to the fifth place with this win against Helsingborg.
OTHER RESULTS
Mullsjö – Höllvikens 7-5 [highlights]
Thorengruppen – Örebro Kings 7-4 [highlights]
Jönköping – Växjö 2-6 [highlights]
RANKING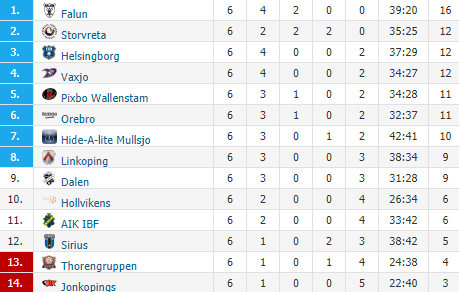 After every SSL round, FloorballToday looks back at the matches played. Make sure to visit FloorballToday regularly to stay up-to-date about the most prestigious league in the world.