Had a busy week? Catch up with the latest results and highlights of the Swedish SSL.
HIGHLIGHTED GAMES
Dalen – Thorengruppen 7-4 [highlights] [match report]
The first Umeåderby of the season was won by Dalen, who convincingly beat Thorengruppen.
Örebro – Falun 1-10 [highlights] 
After winning their first three SSL games, Örebro succumbed to the reigning champions Falun. Star of the night was Falun's Omar Aldeeb who stood for 6(!) points!
Mullsjö – Helsingborg 9-5 [highlights]
In front of an excited audience, Mullsjö broke away from Helsingborg and took the game 9-5! If you haven't watched the highlights yet: Emil Kihlblom's goal is insane.
OTHER RESULTS
Storvreta – AIK 10-3 [highlights]
Växjö – Höllviken 6-7 [highlights]
Pixbo – Linköping 5-7 [highlights]
RANKING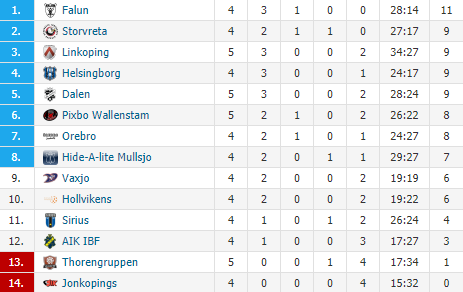 After every SSL round FloorballToday looks back at the matches played. Make sure to visit FloorballToday regularly to stay up-to-date about the most prestigious league in the world.