It's one of Sweden's most famous teams and not only in soccer. The Stockholm-based team has played in the SSL since 2000 and has won 2 Gold medals and 2 Silver medals. However, right now the team finds itself in a relegation spot and recently sacked their head coach Magnus Jäderlund. Is this the end of an era?
To start with a cliche: in sport, nothing is certain and nothing is permanent. Perhaps it's hard to imagine but there were times Falun wasn't dominating the scene and there will be a time where Alexander Galante Carlström and Rasmus Enström will, for once, not be among world's best players. There was a time where the famous floorball club Balrog Oilers were supreme – they were Swedish champions not fewer than 8 times. However, everything ends and Balrog was not an exception: now the team plays in the Swedish nether regions.
If AIK would relegate, many will point at Kim Nilsson's departure to Kalmarsund as a key moment. Perhaps one of the world's most talented players, the forward was AIK's star player and could decide games by himself. He not only produced goals but also engaged and motivated the other players with his presence. His departure to Switzerland (Grasshoppers Zürich) was temporary at first but when his 2-year expedition came to an end, it became clear that the Allsvenskan FBC Kalmarsund, his mother club, had paid handsomely to add Kim Nilsson to their ranks. AIK had a bag full of money but lost one of the world's most skilled players in the process. Together with a generation change that unfortunately occurred at the same time, AIK is now filled with young talents but without an icon that can inspire them and charge with them to the victories they so dearly need.
READ – Story: The Rise & Fall of Balrog Oilers
Now let's see where the time is currently ranked: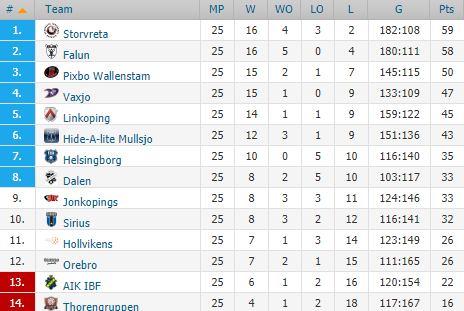 Unless a miracle happens for Team Thorengruppen, we have found ourselves the first relegation candidate. AIK has a slightly more positive outlook with 22 points. There are two teams with 26 points and there are 7 matches left. With only 6 full-time wins after 25 matches played, it seems like an impossible task. A look at the schedule reveals something more worrisome (current position opponents included):
AIK match schedule
11 February – Växjö #4
14 February – Linköping #5
18 February – Mullsjö #6
24 February – Helsingborg #7
27 February – Höllviken #11
4 March – Jönköping #9
10 March – Pixbo Wallenstam #3
WATCH – Kim Nilsson vs Martin Tokos – who scores the best goals?
Almost exclusively, AIK will meet playoff teams. With the team already in crisis, this makes the ticket to the SSL season 2018/2019 an ordeal. With only 1 win from the last 9 games, it's clear the team needs to attain a big dose of momentum to cross the gap with the competition. Was firing Magnus Jäderlund a good idea? Who knows. Desperate times call for desperate measures. Perhaps a change in leadership will give the momentum necessary to secure a ticket to the next SSL season. On the other hand, one could argue that there is simply not enough talent and routine to make the difference against the tough competition present in the current SSL season.
Will this be the end for AIK? In the next month, we will find out.
Join the Floorball Worldwide Facebook Group
Floorball Worldwide
Facebook Group - 1.920 members!
| | |
| --- | --- |
| | Become a member |
For lovers of floorball worldwide! Here you find the latest news about floorball!